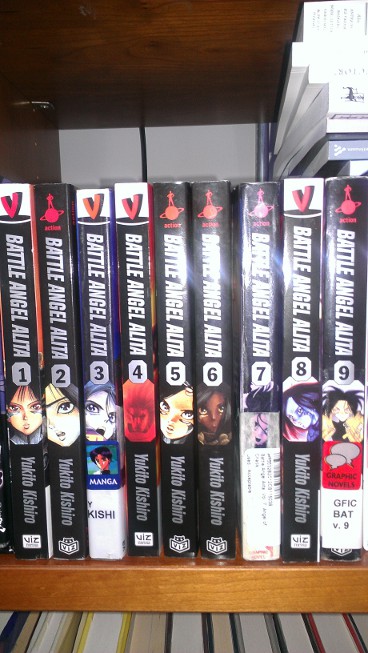 I pieced together all of the Battle Angel Alita issues after an io9 thread discussed them favorably. There's also an anime adaptation and a proposed live action version that's been abandoned by James Cameron. To piece together the full run, I had to hop between Amazon and B&N. Used books can sometimes appear for ridiculous prices and although I didn't have to shell out too much, issue 7 was kinda crazily overpriced. I'm reading 6 right now, so we'll see whether 7 is actually that much better.
Mysterious past. Unexplained skills. Oppressive society. The story's a little silly at times, but it's overall a nice diversion.
London last weekend for the Barbican Center's production of Einstein on the Beach. Planned a couple of months prior.
Fri 11 May
Before we get on our flight, we realize that the tickets are to Gatwick instead of Heathrow. Derp. The change was pretty harmless, and we just had to pay a little extra for an express train in. Slept maybe 30 minutes on the flight. In London proper, we passed by Battersea Power Station. Because it's used on the cover of Pink Floyd's Animals, this was actually a scheduled destination for Sunday. Instead, I snapped a pic from the Monday morning train ride on our return to Gatwick.
Check in at The Metropolitan across from Hyde Park. Quite posh. We scored an amazing deal at Hotwire (but made up for the savings by closing every evening at the hotel bar). Late breakfast at The Breakfast Club; an excellent bohemian restaurant that gave me beans with my breakfast. Beans?! Our first hint of foreignness in a city that felt at first like New York. After was our shopping trip around Carnaby Street which has a bunch of hipster/Mod clothing shops. Lisa spotted a shop called The Face (Mod slang for the coolest of the cool kids) down a side street. Jacket purchased there with matching shirt from a Ben Sherman down the street. Hour 26 of our first day and my EotB outfit was achieved!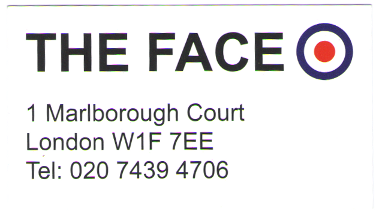 Just watched The Who's Quadrophenia on YouTube to relive all that was the Mods. Brilliant!
Prepping for our trip, Verizon told me that my new phone (HTC Rezound) wouldn't work in the UK, so I got a temporary HTC Incredible 2 for Internet and photos. Sadly, it had no SD card to store said photos, so I had to grab one at the local Vodaphone shop. Vodaphone?!? More foreignness! Vodaphone guys get the honor of IMAG0001:
Next stop: London Eye, delicious street vendor ice cream, general walking and gawking, plus our first pub of the trip: The Camel and Artichoke. A perfect little neighborhood spot that quickly filled up with end-of-the-work-week locals and presented us with our first pub questions: How do we tip the bartender? What are all these beers I've never heard of? And why do they all taste flat? More foreign madness.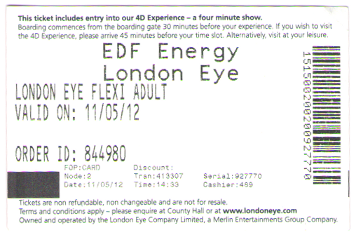 Top of the world! Battersea is visible right above the British flag.
All of this walking wiped us out, so a 60-minute power nap brought me up to 90 minutes of sleep by hour 30 of our first day. Dinner was French cuisine at a two-star Michelin restaurant The Square; a short walk from our hotel and still in the Mayfair district proper. The three-course meal was insinuated with what seemed like dozens of amuse-bouches. The portions were appropriately small and the flavor was subtle and varied. We have never done wrong with French restaurants and this was the pinnacle. Walk back to the hotel with closing drinks at the bar where the more acrobatic bartender spun a bottle upside down in the palm of his hand. In bed at hour 36 of our first day, right well exhausted.
Sat 12 May
This is the day. Everything revolves around Einstein on the Beach.
First, a trip out of Mayfair and up Audley Street towards the Sherlock Holmes Museum, prompted by my interest that started seven (!) years ago. Breakfast of pastry and coffee at The Richoux on the way. The museum was three floors of miscellany and wax figures of major characters.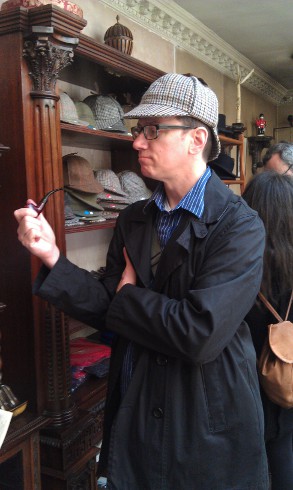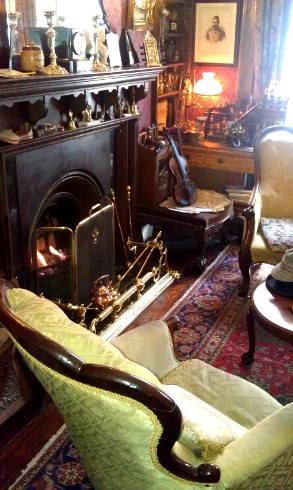 Left: Trying but not buying. Right: Sherlock's violin!
Nearby was our second pub of the trip: The Volunteer. Glasses were replaced with plastic in anticipation of a contentious football match later in the day. After drinks, a quick walk to The Beatles Museum a few doors down then the underground to a walk through Green Park and Buckingham Palace.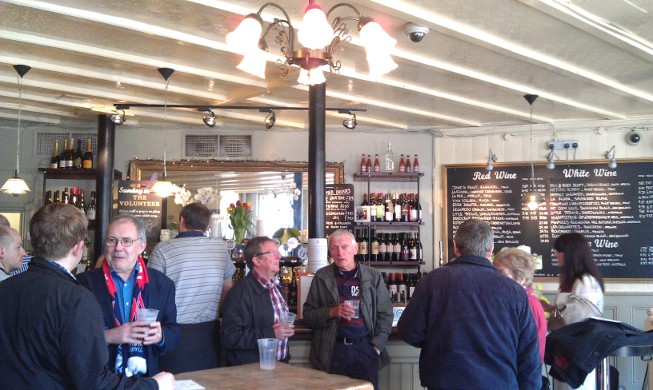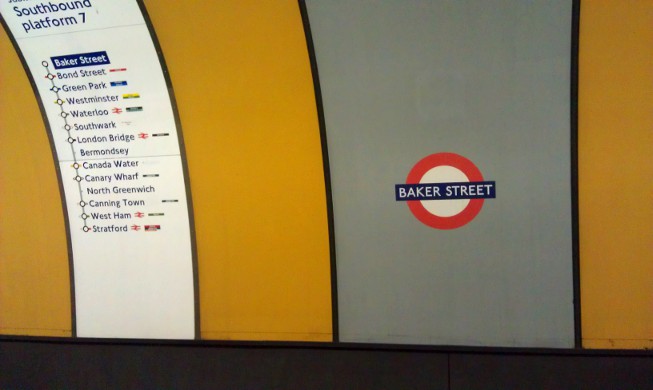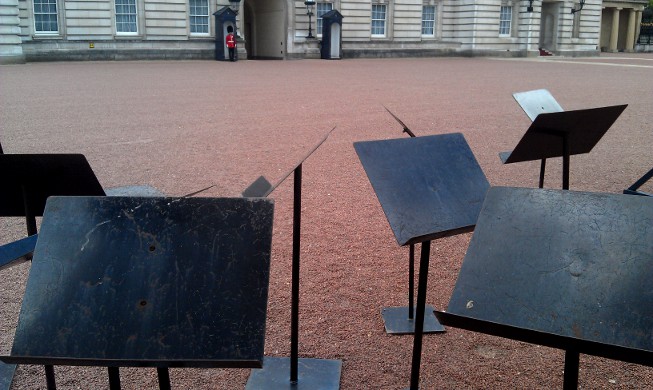 Change of the guards, change of key.
Taxi to Barbican via Fleet Street for pre-concert late lunch early dinner at Vinoteca. I had mussels and Lisa had their special of the day: hot dogs. Walk to Barbican, pick up tickets at will call, find our seats.

EotB opens with the female "leads" simultaneously reciting a different block of text, sometimes intersecting with homophones or bouncing with accidental call and response, overtop a choir singing numerals to the meter. Prior to the official start, they sat on stage intoning their parts without choir. My heart was racing for the moment and when the choir started, starting the opera, my throat constricted with the feeling that I could hardly believe where I was. 5:30 PM to 9:50 PM. At around three hours in, I finally looked at my watch and decided that an intermission wasn't necessary. There were too many moments that were genuinely unique and varied to express without the mundane "you had to be there." Music, dance, and theater. I have little sense of the meaning of the opera, but the beauty and humor and structural brilliance were enough. I may go again this fall in Brooklyn; I recommend you do too.
After was our third pub of the trip: Two Brewers just up the street from Barbican. We chatted with the owner, his wife, and the bartender after the owner playfully mocked my mod, mod Carnaby jacket. They were, perhaps, the friendliest people we met during our entire London trip, and we'll definitely go out of our way to return during our next London trip. Underground back to the, now very packed, hotel bar and final drinks. The bar was filled with young Euro-punks, flashy dressers, and families (?!?). Female DJ was awesome.
Sun 13 May
Long days and walking everywhere catching up with us. An early start was not achieved. We eventually get to the Tate Modern for the Damien Hirst exhibition.

The Tate Modern is obviously a product of the same architect that did Battersea. Good omen. Inside was enormous. The Hirst show contained a stunning collection of every style that he's worked in, beginning with a reproduction of his first gallery show (although, that was the weakest piece). Photography was not allowed because--I'll safely assume--Hirst is a manic businessman when it comes to marketing his art. The most stunning pieces were The Physical Impossibility of Death in the Mind of Someone Living (i.e. the shark piece), A Thousand Years, and Black Sun. A Thousand Years consists of two glass boxes. One contains a smaller white box in which flies hatch from maggots. The other contains a decomposing cow's head which the flies fed on. Above it, a bug zapper. Oddly, the the boxes appeared to be sealed directly against the wood floor of the museum so that the head bled and rotted on the same floor the visitors walked across. We were safely separated from the cycle, yet a shared surface transported us into the piece. The tactile aspect was more moving than expected. Black Sun is a 12-foot circle six-or-so inches deep, jarringly black with an undulating texture. It is made from layers of dead flies. The concept is disgusting, but the result is beautiful (much more so than its images suggest). For the Love of God was impressive but, much like the Mona Lisa, difficult to separate image from icon. The most humorous pieces were his hundreds of "facsimile pills" which were replications of actual pills, to scale.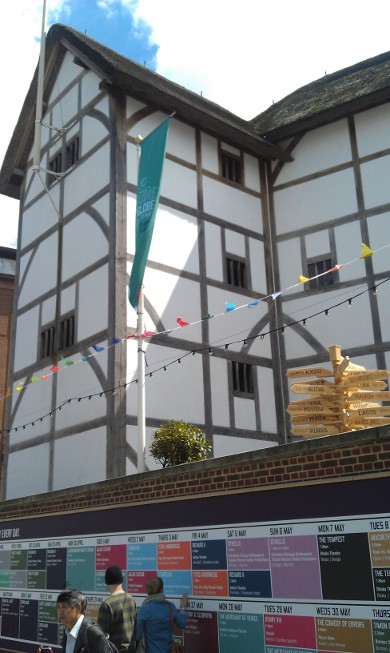 After was a walk next door to tour the Globe Theatre. No chance for a guided tour, but we walked through the museum and discovered that an American actor championed the effort to rebuild the theater. After walking the Tate and the Globe, we were ready for our first meal of the day at around 4 PM. We ended up at our fourth pub of the trip: The Ring in Southwark (pronounced SUTH-erk, you tosser). Nothing remarkable, but I had the cottage pie and now have ambitions to make it at home. At one point, the music playing was Carol King's "I Feel the Earth Move"; lyrics used prominently in EotB.
There was some further wandering around the city, resting at the hotel and packing, then a long walk through Middle Eastern neighborhoods to dinner at our fifth and final pub: The Windsor Castle in Marleybone. Thai food! Hotel bar, early morning express train, and arrival home at 6 PM Monday night. Plans to return next year during The Proms.