Saw The Punk Singer [ IMDB | Rotten Tomatoes ] at The Plaza Theater way back on 6 Dec. I had listened to Bikini Kill during and after college, so it was amazing seeing them "live" and equally amazing seeing what an absolute intellectual bad ass Kathleen Hanna was. Added Le Tigre to rotation afterwards. Personal favorite: Phanta. It's a song I wish I would have written.
Continuing the feminist shtick: reread the Pussy Riot Closing Statements after their recent Sochi fun. Yekaterina Samutsevich's statement was brilliant.
Conversely, after reading Sasha Frere-Jones' 16 Dec review of "Britney Jean", I decided to dig into the Britney Spears catalog. Avoiding the newest and the oldest, I went with post-breakdown Britney Blackout (2007), Circus (2008), and Femme Fatale (2011). Was entertained by many songs on the first two; Femme Fatale was garbage. Recommended from Blackout: "Piece of Me", "Radar", "Heaven on Earth", "Why Should I Be Sad". Recommended from Circus: "If U Seek Amy", "Unusual You". I have yet to dig into the classic Britney.
X-Mas Eve annual holiday party dinner with friends at Bacchanalia. New Year's Eve with friends at No. 246 in Decatur then to Bill and Tedra's where, gratefully, my car did not get broken into. Superb Owl Feb 1st weekend with friends at a cabin near Blue Ridge, GA. Drinks, hot tub, so much food, a very cold river, and a self-induced black eye for Lisa.
Saw Skinny Puppy at Center Stage on 4 Feb. Fun show and the stage bric-a-brac reminded both Lisa and I, independently, of the stage for The Lamb Lies Down on Broadway.
Saw Romeo et Juliette at Cobb Energy Center with Theresa on 8 Feb. Amazing. Loved the play-within-a-play puppet show and the extended scene in slow motion when Romeo murders Tybalt murders Mercutio was brilliant. So much was happening on stage that I should have gone multiple times.
For the new year, I promised myself to start practicing piano at least once a day in order to tackle Ballade. The going has been slow since, starting a year ago and progressing, I've had odd carpal tunnel-ly things happening in my right hand. Doctor's advice a few months ago was crap and at this point I can't play some of the stuff I had once been able to. My current plan is hourly exercises described here plus anti-inflammatories twice a day.
Picking up new art today from Kai Lin by Wyatt Graff.
Hoping Matt is recovering.
On March 11th of last year, one of the managers at work gave a bunch of us Betta fish to celebrate some product release. Beyond the wildly unwise move of foisting living things on unsuspecting coworkers, I never really thought of fish as an interesting pet-type thing at all. However, some maternal instinct quickly kicked in and I had to take care of the little guy. Mine came in a small bowl, so I decided to go shopping for a more fetching abode. To PetSmart and $90 later he had his new home. Here he is on the first day being frightened by some Girl Scout cookies, and then two days later waiting for his 3-gallon mansion to be prepped: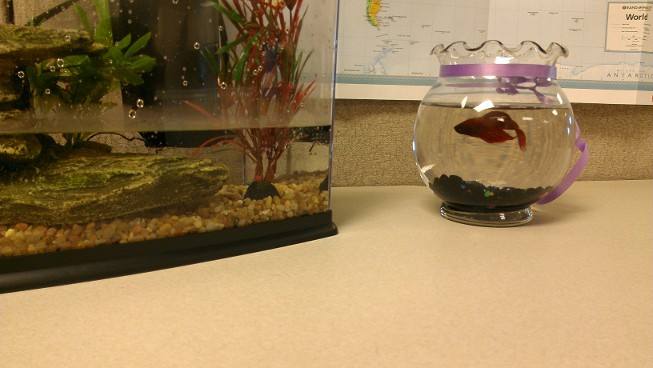 The best Java-geeky name I could think of was GC. Not quite appropriate, but it had a nice ring. He would rush to the front of the tank any time I got near and rest against my finger when I stuck it in the water. Every now and then he'd decide to bite at my fingertip. For an uninteresting pet-type thing, he quickly grew on me. After the Snowjam, he started acting lethargic. I got medicine from the pet shop, but I think I waited too long and he was gone when I went in to work to check on him on Sunday.
Here's the last pic of him from Wednesday February 5th. Sadly, by this point he was spending a lot of time at the bottom of the tank.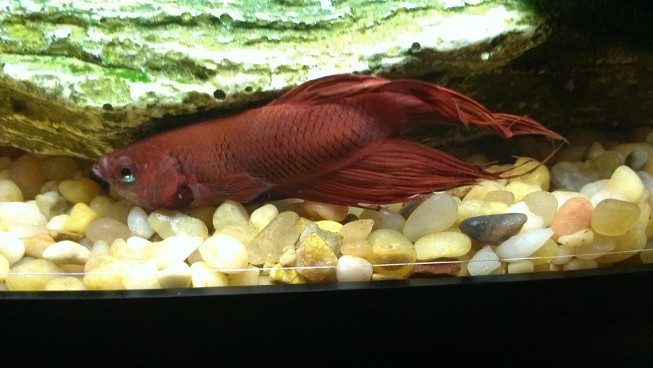 I really developed more affection for him than would be reasonable, but I haven't had a pet since I was young and maybe needed that. I was sad when he left.