Lisbon from last Thursday through Monday morning to hang with Lisa on her recent business trip. When she had gone previously it was bad timing for me to join her. I had a new job and was busy with new work. This time I was 9 months into the job and felt settled enough to go.
Thu 24 Mar
Leave Wednesday night on Air France going ATL to CDG to LIS. As is tradition, I had pre-flight drink and food at Ecco in the international terminal. On the flight, I watched the first half of Game of Thrones season 5. Since the plane was full of high school kids headed to Paris I should have felt skeevy watching the wildly uncensored scenes but hey, they need to be prepared for Europe's libertine attitude towards nudity. Sadly, the Air France flight back didn't have the same selections so I didn't get to finish it.
After landing, security was quick since no flights outside of Europe enter Lisbon. 15 minute ride to the hotel and a shower before walking into the city proper. Go go go!
I'm on my own until early evening. First stop is Museu Calouste Gulbenkian where they have a collection spanning five millennia that includes Egyptian sculpture, Greek pottery, Chinese ceramics, Persian printing and weaving, and all forms of European art. Basically, my complete art history textbook excluding the 20th century. Notable were some of the Medieval carved miniature panels of scenes from the life of Christ, and the large-scale European landscape paintings from the 1800s. Many names I didn't recognize, and sadly I also didn't follow my lesson from the Uffizi in Florence and buy a guide... or at least write down the names. Maybe next trip!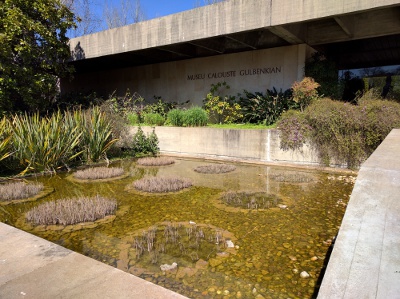 After a couple of hours, travel was kicking in and I started to pass-out-standing-up while looking at the later works. Left to walk the museum grounds then head back. Espresso and an odd-yet-delicious pastry--a light, sweet bread with gelled candies in it--at O Pao Nosso (Our Bread), then back to the hotel. Our hotel, the Lisbon Marriott, is a ~30 min walk north of the museum via the pedestrian unfriendly Avenida dos Combatentes. I decide to walk the opposite side of the street and soon ran out of sidewalk. 28-hours awake and running across six lanes of traffic is how my vacation didn't end.
Shower, zone out, and then reunite with Lisa, Alicia, Dan, and Rodney at the hotel bar. Taxi to the Baixa neighborhood (pronounced BI-shah, "Low", cf. "bass") to wander the shops and grab drinks and snacks at Cafe Nicola. More walking and we end up having dinner on the patio at Cafe Lisboa. They're situated next to a plaza where, IIRC, the symphony performs. We didn't get to a symphony concert but maybe next trip! Hotel then SLEEP.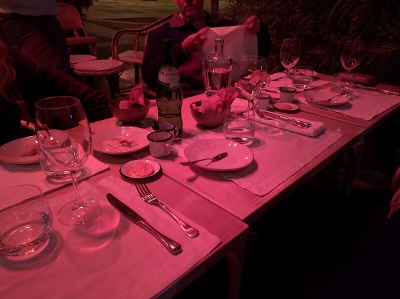 A week or so before I left for Lisbon, my cell phone contract expired. I impluse-abandoned many years with Verizon based on an Ars Technica article and went with Google's Project Fi. Nexus 5X with Marshmallow at $20/month + $10/GB including international calling and data. Perfect. One great feature is the admittedly-creepy Google Timeline that integrates GPS with map locations and photos you've taken. A long time in one spot probably means you stopped there. This makes remembering restaurants and such so much easier.
Fri 25 Mar
Lisa and the gang had to work a lot more than expected, so Dan and I were on our own much of the day. It was decided that we'd tackle The Metro, so we walked to the Jardim Zoologico station and hopped a ride to Baixa-Chiado station. Five or so museums were mapped out, but we ended up at the Chiado National Museum of Contemporary Art. This is highly recommended. They have two locations, one was mostly closed for renovations and the other had an amazing selection of Portuguese art from the 1970s to the 1990s across many different styles.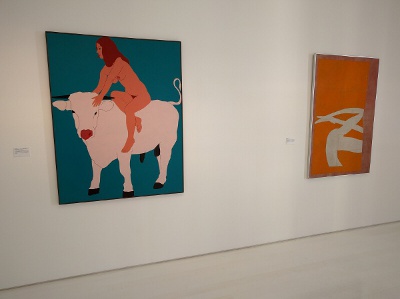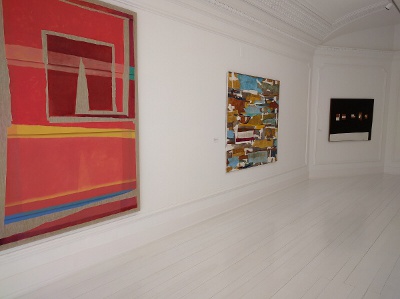 Basically, the modern history I missed at the Gulbenkian on the first day I made up for here. After getting our modern art on, we headed towards St. George Castle to eventually meet up with the workers once they get free of their shackles. Stop for drinks and charcuterie at Le Petite Cafe on Largo Sao Martinho (excellent), then further up the hill to find whatever patio the paycheck slaves ended up at.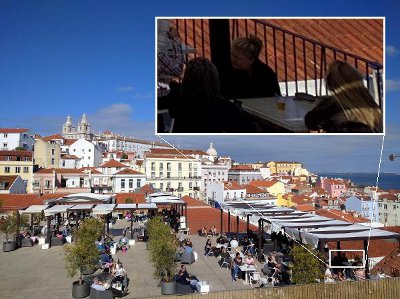 We got to the castle and the line consisted of possibly the entire population of Lisbon. Maybe next trip! Plan B was to just walk around the exterior neighborhoods on the hill and take in the view. Odd area at the entrance to the castle had several large 3D sign letters spelling out random words. KOSMOS and VICTORIA were there with WINU and AM and a couple others that were--I found out later--part of an art installation called LIGHTCRAFT BELMONTE. These particular pieces were from Stefan Kornacki's "Things to Come (Inscription project)". From the catalog:
... years ago [these] were urban signs, topping buildings in the People's Republic of Poland. The irony is that, since these old symbols of innovation and progress were outdone by time ... they reappear now in the urban scape as absurd utterations. ... These 'signs' come from past. But we can look at them also as signs of the future, ruins, of all and any civilizations. Things to come.
This very much expresses the experience viewing them. It was a reference to intentionality that seemed to span multiple, defunct ages. Atlanta needs more urban installations like this.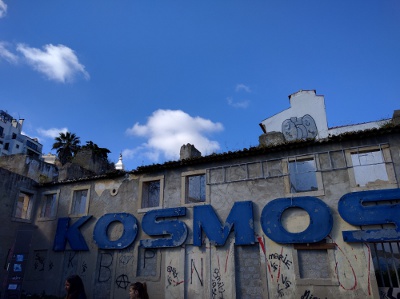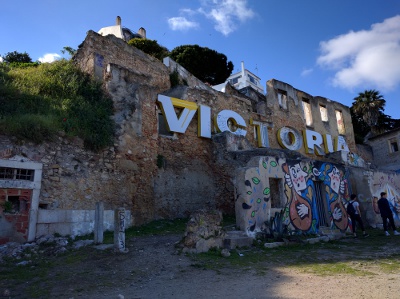 Next stop was lunch at Chapito a mesa: allegedly the 7th best patio in the world. So, of course, I got no pics but I did have many drinks and delicious food. In fact, as much as I love the new phone and service, its battery just cannot survive a full day of mapping and photos and web browsing: no photos after 7 PM. We continued the evening in the heart of the tourist area and browsed several different kiosk-filled streets. The great success for me was: (1) a bottle of 2007 Porto Reccua LBV and (2) a large link of smoky black sausage. The second item--it was assured to me by the butcher--was sealed so that I could get it back to the states without anyone noticing. I did, but only after wrapping it in several layers of plastic bags (which did not eliminate the smoky sausage smell), shoving it in the bag with my workout clothes (still smoky), and spraying down the whole kit with my Polo Black cologne (success). The flight home ended at the Hartsfield Jackson International Luggage Carousel. Immediately after I texted Dan, who was still in passport control, that I'd wait for him, several agricultural dogs started circling the room. Me + poker face exited quickly and now I'm happily ensconced at home with port and sausage!
More wanderings in the neighborhood: Museu da Cerveja where Rodney bough a set of glasses shaped like bottles, Trobadores Taberna Medieval where all things Renfest were happening. We had seen a couple of bars that had traditional Fado music, but needed reservations to get in. Plans were to go Saturday, but that fell through. Maybe next trip! Finally back to the hotel for late-night drinks at the bar.
Sat 26 Mar
Saturday! The good news: Lisa didn't have to go into work. The bad news: Lisa had food poisoning and, though the weather had been perfect thus far, the day turned cloudy and cold. No matter. Dan and I missed each other at the hotel breakfast somehow, then got a late start at Belem Tower for pics (another absurdly long line kept us out, maybe next trip!), and the Museu do Combatente. The museum had presentations for Portugal's role in WWII (less interesting) and for their colonial uprisings in Africa (very interesting). Apparently, Portugal defied the UN resolution on self-determination of colonies and did not allow it's territories to become independent. Rebellions broke out in Angola, Portuguese Guinea, and Mozambique starting in 1961 and continuing until 1974. Spoilers: those countries are free now. I knew Portugal had an empire hundreds of years ago, but never really considered its demise. Interesting history.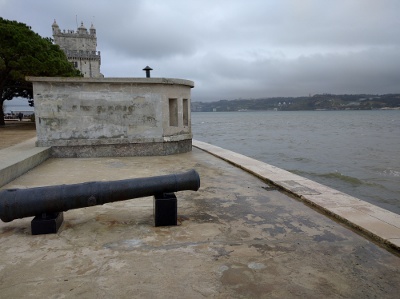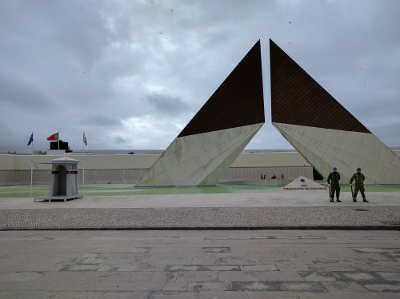 Next stop was supposed to be the Jeronimos Monastery, but we passed by the Museu Colecao Berardo and decided that free admission to contemporary art trumps monks. The museum is in a complex that also has a symphony hall (performing John Adams' 2006 opera A Flowering Tree on the 6th) a theater and a couple of restaurants. In the museum proper we walked through a small installation of Nicolas Paris works called Four variations on nothing or talking about that which has no name, and twelve-or-so rooms of contemporary art from the 1960s to the 1990s. The Paris works were humorous and thoughtful and hard to describe. Tiny, delicate pieces that continued in variated forms. Cut paper; rocks; wires glass and plants. The larger show had some very major works and really nice pieces of minimalist sculpture. None of the pics turned out though! Very late lunch at the East West Pizza Sushi Cafe in the museum complex then Uber back to the hotel to meet up with the gang.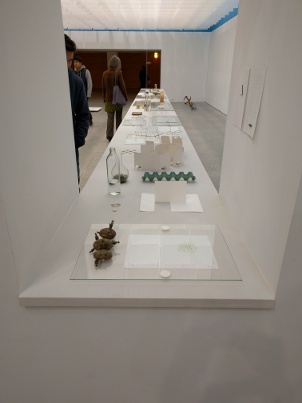 We zoned out at the hotel a little, back to the hotel bar, then dinner at the hotel restaurant with all except Sick Lisa. Pretty exhausted.
Sun 27 Mar
Last day so Lisa and I head out for fun in the sun. She's stir crazy from her Day of the Dead so walking is in order. Walk to the Metro--second and last trip on my 3-day pass did not make it a fiscally sound purchase--then down to Praca do Comercio and some pics of King Jose the 1st.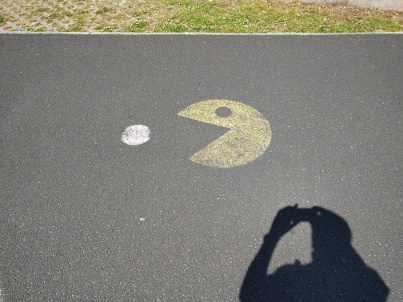 Walk the coast and stop for drinks at Monte Mar restaurant on our way to a complex of bohemian galleries and restaurants called LX Factory. Walking and getting lost on the way ate up time, so many of the shops were closed there. Lunch at the wonderful A Praca where I had maybe my most Portuguese meal: cod fish cake. Delicious.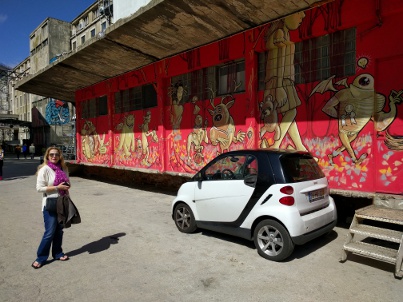 We should have taken the trolly back to Baixa but instead just taxied. Maybe next trip! Once back in the hood, we queued in the first and only line during our entire time in Lisbon: the Santa Justa Lift. Completely worth it for the view that we got.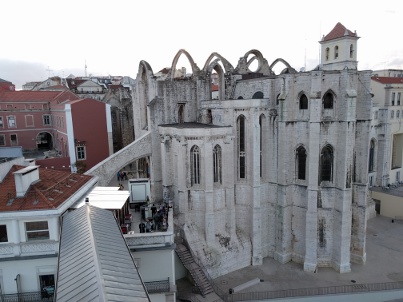 It was cold, thrilling, and the exit several stories up at the top took us to the coolest neighborhood in the city: Bairro Alto (high neighborhood, cf. alto vs. baixa, high vs. low). Just as LX Factory was like the Goat Farm or L5P in Atlanta, Bairro Alto was like Soho in NYC. So many great, small restaurants and wine bars, we first stopped at Wine & Pisco in the middle of a small plaza where we had wine and I had a shot of pisco. Pisco is basically Perivian grappa and it will blind you just as easily as grappa. Drink. With. Care. Further wandering brought us to The Old Pharmacy which had an excellent wine selection and an equally excellent soundtrack playing The Rolling Stones performed a la lounge music. We made it back to the hotel around 9? or so and I hung until 11?? so I could get up at 3! to leave at 4!! for a 6 AM flight. No surprises and the sausage made it home (phrasing). Return movies were newly viewed The Hunger Games: Mockingjay, Part 2 (3/5) plus previously viewed Trainwreck (4/5) and Star Wars: The Force Awakens (4/5). Home; jog in the perfect weather; grab a calzone from Vinny's.
posted by sstrader at 9:45 PM in
Where was I?
| tagged
galleries and museums
,
travel
|
permalink