4 June 2015
Where was I?
Sat 9 May
Off to Prague to meet Lisa and Danice and Theresa after their week in Croatia. First international travel alone in, ever? Oddly nervous. While weighing my luggage at home, I found out I weighed twenty pounds less than a few months ago. Weird, if true. This trip should change that.
Atlanta to Paris to Prague. Ended up going through a different security area and am not sure how. Being alone sets you on different routes for even the simplest choices. Lunch at Ecco: Gruner Veltliner and chicken panini. Read: "Charlie Hebdo and the previous question" (brilliant examination of racism, heroics, and humor), "Love songs, RIP" (rap is killing the love song), "The happiness industry" (uninspired rant against policies that nudge people into better behavior). The Charlie Hebdo article pointed me to the hilarious/informative site Understanding Charlie Hebdo cartoons. And, of course, sitting next to French travellers waiting for the flight to CDG. Gate F12 Paris; gate F14 Knoxville.
On the flight, sat next to Roberta From Tampa and, as I leafed through my Czech language book, we realized our destinations were the same. Her friend's daughter is in cinema school in Prague and she planned to stay a few days then meet her husband in Bologna. She's Italian with absolutely no accent.
Watched: Jupiter Ascending (all it had to offer was spectacle, so an airplane screen was the worst possible option), Project Almanac (childish, avoid unless you have a desire to see Piedmont Park), and Episodes (recommended by a coworker, good).
Sun 10 May
Follow the crowd off the plane to the only possible destinations: ATM and luggage. English signs everywhere, yet airports are confusing in their base genetics. Eventually made my way to the bus stop and was given 24Kč by a Kind Stranger to get a train ticket since I only had large bills. After several false starts I eventually joined the last people remaining. No ticket needed, it appears to be only circling the airport. Rats. Finally, it ended up at an entrance to the underground Metro. Success!
Drop the bags early at Hotel Josef with Filipe who had an awesome Gant watch that I Simply Cannot Find Available Anywhere. Snack and coffee at cafe Opapa waiting for room 114. Unpack, sleep, shower.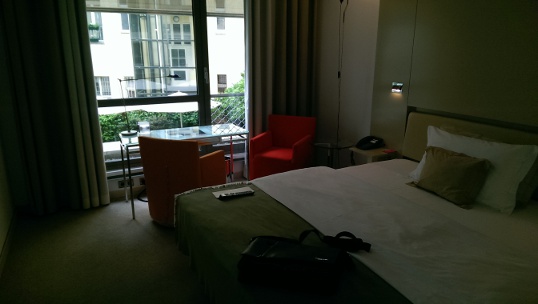 Dobre rano, Hotel Josef!
Girl-free until tomorrow night, so today is museum day. First stop: as 20 minute walk to Veletrzny Palac at The National Gallery. Started on the 4th floor and went down. Czech art from the 1850s on, then European art from the same time, then late 1900s and 2000s Czech art. Czech cubist artists would quote Picasso, Cezanne, impressionism to the point of plagiarism. I was kindof shocked. Beautiful late-romantic large-scale canvases. Very good 60s and 70s minimalism and the there was good balance in the present-day styles, presented with "what's next?" uncertainty. I recognized very few of the artists throughout the exhibits. Big mistake not taking notes. Rushed through the Kokoschka exhibit due to tiredness and I'm not that big of a fan.
Leaving Veletrzny as Roberta and her friend Sue were entering. Ha!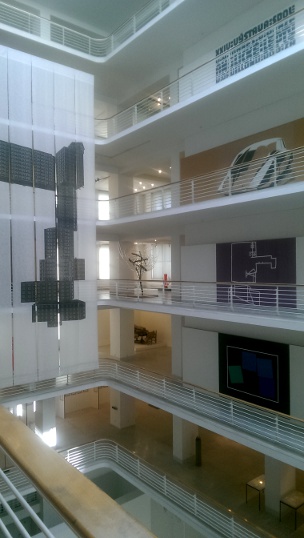 Light-filled atrium at Veletrzny Palac. Unrelated, but equally awesome, Mr. HotDog (coming soon).
Next: back near the hotel to the Convent of St. Agnes of Bohemia. Hard to find even with GPS and Google Maps. There are no two streets that are parallel. The current show is Medieval Art in Bohemia and Central Europe. Painting and sculpture from 1350s to 1450s with notable transitions to the international style. Nice complement to the moderns at Veletrzny.
Late afternoon and time for drinks and mussels from Nadeem at the bar at Chez Marcel. One of the many times I'd get a bonjour instead of a dobre den.
Nap.
Brain reset and got a recommendation for a local kavernu for beer and Czech food. Ended up at VKolkovně ("v" is "in" and I'd see it sometimes with street names or locations; usually street signs will start with "U" which is short for "ulice"/"street"). Sausages in gravy with onions and peppers and a basket of heavy bread and Pilsner Urquell. Manhattans after at the bar at Tretter's. Minor people-watching and reading as I wind down (The Vorrh by Brian Catling).
Mon 11 May
Late start and finally get out at ~10. The nap did nothing! Coffee at Opapas (again). They serve coffee with a small shot glass of water. Not sure if Viennese or Czech tradition. The morning itinerary is walk around the old city squares. I see: Church of Our Lady Before Týn and Prague Astronomical Clock. I avoided tours since I wasn't sure what the girls would want to see. My mistake because I never got to go to the top of the clock tower. Wandered old neighborhoods randomly and saw many cool things that I would never be able to find again because of the aforementioned non-parallel street chaos. There were several instances of "oh, I was here before!" later in the week.
Church tower: stack it to heaven, I say!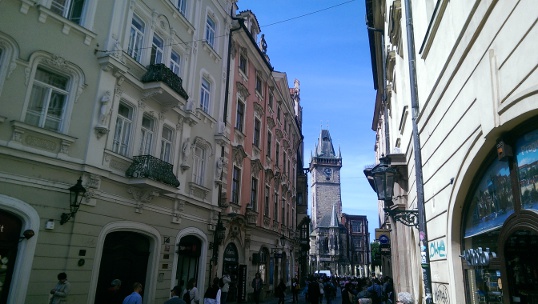 Approaching the old city square.
Lunch at La Veranda (bonjour!). This was included in a list of recommendations the hotel concierge provided when I emailed them before the trip. I actually made reservations just because. French. Sauteed calamari, pea risotto with scallops, limoncello ice and espresso. Very nice wine recommendation. Even the nicest restaurants are so inexpensive here.
Jog. The weather is perfect and continues that way throughout the week. The hotel provides a jogging map with three routes. Neat! I take it and promptly get lost on the first turn. Again, non-parallel streets. I get back on track and wend across bridges and through parks and through the city. It's a nicely joggable city. I'd been worried since Lisa S. went for a jog in Rome and said it was unpleasant. Prague reminds me of Florence for its mix of age modernity and its narrow streets. Lisa S. had a good jogging experience there.
Back and clean up and then drinks and reading at Vino di Vino (ciao!). Picked up bottle to take home to Atlanta (yes, we eventually drank it in the hotel). Amazing wine cellar.
Throughout the trip, Lisa and I had been using an IM account via Trillian to talk. Alternately, she and the girls used WhatsApp to chat when they went their separate ways. The world needs a unified IM protocol. Anyway, at VdV she messaged that she was in the room. After meeting up for drinks at the hotel bar we wandered around the city and ended up for dinner at an Italian restaurant (ciao!). Completely forget the name. I had roasted pork knee with mustards (traditional Czech), Lisa grilled pork with hot peppers and mushrooms. The knee was a complex combination of bones and fat an very, very tender meat. Drinks at Tretter's (again).
Tue 12 May
Coffee at the start of the Charles Bridge. Then through the Mala Strana district (lit. "little side", little quarter), around St. Nicholas Church, and up a steep, steep hill to Prague Castle.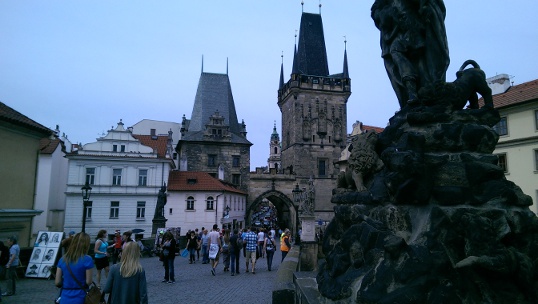 Crossing the Charles Bridge to get to Prague Castle.
Looking down at the small people from on castle high.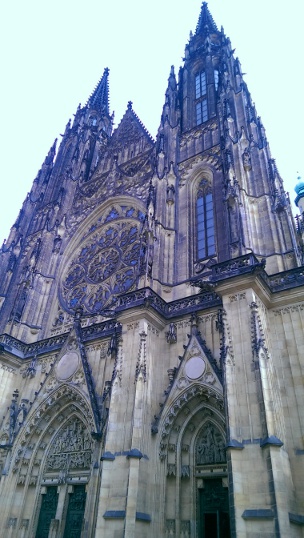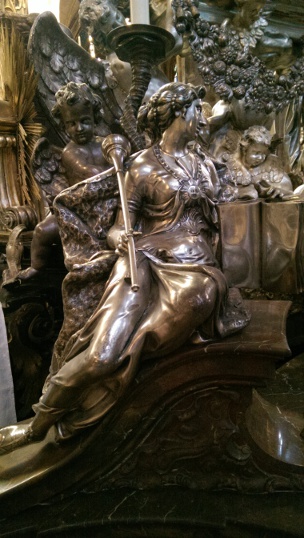 Detail of the solid silver tomb of John of Nepomuk inside the cathedral.
After castle, met back up with Danice and Theresa and stopped at V Laznich traditional Czech restaurant after we saw pretzels hanging on wooden stands at each table. Neat. Had sausage and potato pancakes. Then further wandering in the area to see Lennon Wall filled with graffiti with both peaceful and trolling, war sentiments, and the Memorial to the Victims of Communism.
Dinner at the Michelin Starred Alcron. Four courses with wine pairings. Excellent. At the end of the evening the chef created an elaborate food painting for newlyweds at their table.
Wed 13 May
Meet Theresa and Danice at Cafe Louvre. Their tour guide Marcus had given them a 2 hour tour in the morning, so he joined us for a late breakfast. Vienna sausages and horseradish. Although very knowledgeable about the city, Marcus answered a question of greater importance: the cartoon character we had been seeing all over the city is the lovable Czech mole Krtek! The rest of the day involved walking around the Nove Mesto area to see the Dancing House and the Church of St. Cyril and Methodius and Upside Down St. Wenceslas (first Czerny of the trip).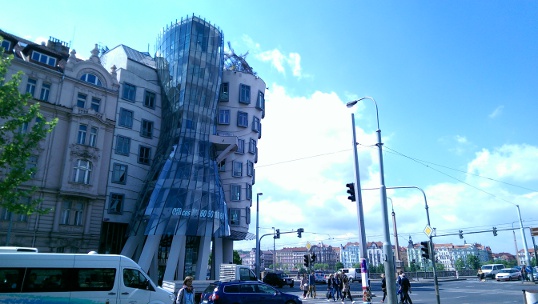 Cross the city to visit the National Monument in Vitkov to see the gigantic sculpture of Jan Zizska on a horse. Met Samuel on the way who gave us directions. He moved from St. Louis to teach English a year and a half ago and is now drawing caricatures. Fun fact: you don't need to know Czech to teach English there. Photos and drinks at the top floor cafe. Off in the distance, Babies Climbing the Radio Tower (second Czerny).
Communists really know how to build a monument!
No selfie-stick necessary.
Return walk stopped at U Medvidku for X33 beer and bought a bottle to take home (drank it with Matt and Tedra and Bill at Meehan's after Mad Max the Sunday after our return). Stopped at the small Cafe Bar Archa U Prokupku: calimari and my first Staropramen ("old spring/fountain") beer. Hanging Freud (third Czerny of the trip).
FInally, the reason for this whole trip: Smetana's Ma Vlast performed by NDR Philharmonic at Municipal House. Champagne beforehand with what seemed like every nationality on Earth represented. Languages everywhere. People dressed from jeans to tuxedos, we were casually in between. The hall itself was more ornate than pictures suggested. Excellent concert and the first time I had heard the cycle in it's entirety. Perfect.
Nearing the end of the trip, so Danice and Theresa split off for independent studies. Lisa and I went to Chez Marcel (again) for dinner. Hanger steak and gratin potatoes for monsieur, rabbit confit for madame.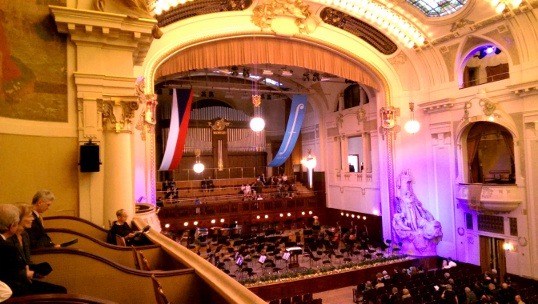 Who's a swank traveler? You are!
Thu 14 May
Nina our tour guide for the day picked us up early for a day trip to the fantastical city of Cesky Krumlov. Nina grew up in communist Czechoslovakia and experienced it turn into the democratic Czech Republic, so she had many stories of the social change. During the 2-1/2 hour drive, she regaled us with history and such. My only notes:
3 regions: Siletia - north west, industrial; Moravia - south east, agricultural, wine country; Bohemia - central and western (and what else?).
Drove past Archduke Ferdinand's castle. It was renovated for his wife Sophie who was not a noble, so the other nobles looked down on her. He was very traveled and educated, and so made it the most modern castle of Europe. Plumbing, electricity, the works. Nina was worried if we visited that we'd be upset by the many animals from his hunting trips mounted on the walls. She seemed very apologetic about it.
Later, she told us about Ruslan and Ludmila from Ukrainian history. Theirs is a well known love story that I knew from some Russian opera but neither of us could remember at the time (it was an opera by Glinka).
No CGI required.
Josef Vachal and Egon Schiele exhibits at the Egon Schiele Center. Excellent museum. Needed two hours and we had 20 minutes.
Drive back into Prague. Drinks at Hemingway Bar. Dinner pasta at Oliva Nera. Drinks at Lokal near the hotel where we sat with Pavel who owns a restaurant in London but grew up in the neighborhood.
Open Vino di Vino bottle back at the room.
Fri 15 May
Last day rush rush rush. Jewish synagogue and cemetery. Late breakfast at the Kafka Snob Cafe: croque monsieur. Museum of medieval torture instruments at one end of the Charles Bridge. Across the bridge for beers with Lisa at Hergetova Cihelna near the Franz Kafka Museum. Piss sculpture (fourth Czerny?) in front, sadly w/out working piss.
Kafka Museum. Grew up in Prague, worked as an insurance adjuster. Overbearing father and combative family cook. Four canceled engagements. Thanks Max Brod! On the Amsterdam layover back home, I purchased four paperbacks to binge-read in the coming months (Schocken, 1998 editions).
Residual obsession from Prague arrived: set of books by their favorite son, K. The next few months will be weird. pic.twitter.com/8Iysff5zmk

— Scott D. Strader (@sstrader) May 20, 2015
Is anyone else paranoid right now?
Drinks at Malestranského (mala strana, small side) Hostince (inn). Baroque concert for organ and soprano at St. Nicholas church. Amazing acoustics. [ updated 5 Jul 2015 ] Flyer for the concert: front and back. Final dinner at Paris Cafe near the hotel.
Sat 16 May
Taxi with Lisa to the airport in the early AM. Separate flights, mine was Prague to Amsterdam to Atlanta. Watched: Comedians in Cars Getting Coffee (w/ Kramer, very good), Taken 3 (entertaining enough), Leviathan (beautiful, depressing film with cinematography that needed to be seen on a good screen. Deals with ideas of a corrupt government and a complicitly corrupt church, echoed by Pussy Riot's closing statement. One scene has PR on the TV in the background), Louis CK (his younger daughter thinks she's always dreaming). Home and laundry and a jog to sweat out the exhaustion and flight and Marta.