9 January 2016
Where was I?
What excesses happened in December?
Movies: We started with Krampus [ 3/5 | IMDB | Rotten Tomatoes ] on Sunday the 6th to remember the reason for the season. A goofy, garish horror flick that re-frames X-mas in the same way that any recent Grimms' stories attempt to honor the source material. Watch if you like Evil Dead or Rare Exports (another seasonal flick) or maybe Troll Hunters (haven't seen tho). End of the month was of course Star Wars: The Force Awakens [ 5/5 | IMDB | Rotten Tomatoes ]. We went Sunday the 20th and revisited Saturday the 26th. I was surprised that for all the flaws, it was still so emotional. I didn't have a big problem with the many dramatic parallels it has to the original movie. With the time that's passed, the re-emergence of the original actors, and the purge of George Lucas, calling back to the 1977 original felt a useful touch to clean the slate. Tarantino's 8th, The Hateful Eight [ 4/5 | IMDB | Rotten Tomatoes ] was a couple of days later on Monday at Atlantic Station during the 100-city tour with 70 mm film projectors and surprise guest Walton Goggins to introduce. Jennifer Jason Leigh's and Goggins' characters were the absolute best and worth a rewatch just to see their performances again. The 70 mm was impressive and reminded me of watching the re-mastered Lawrence of Arabia last April at Landmark. Next up: more violence with The Revenant at Lafont in Sandy Springs.
Childhood obsession I found a few years back when cleaning out my parents' house.
A gift from Lisa!
Music: Friday the 18th was Yacht Rock Revue's 70s Holiday Party at Venkman's. Not much X-mas music but lots of AM fabulousness with the musicians dressed as Star Wars stormtroopers. New Year's Day +1 we went with a co-worker and friends to Smith's Olde Bar to see Puddles Pity Party to continue the 70s theme of YRR. We first saw him by chance at The Goat Farm for a Halloween party in 2014 where he performed in front of a huge screen projecting video from a drone that was flying around the stage. It broke our brains with craziness and was as enjoyable a second time. Schmaltz pop songs performed by a sad clown with a booming tenor voice. Is he respecting the songs or mocking them as if channeling a McSweeney's detachment? Or is this the apotheosis of karaoke (or American Idol) with concerts consisting of a singer singing covers against a pre-recorded backing band? Cf. also Peaches etc. singing originals against a sequencer or Girl Talk etc. performing with a laptop. Next up: more cover songs with Yacht Rock Review performing a Led Zeppelin vs. The Who battle of the bands tonight at Venkman's.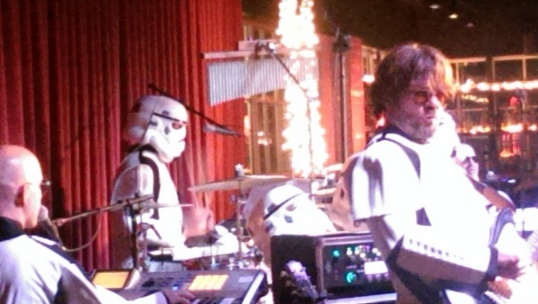 Jeff Lynne battles the force
Events: my first company holiday party Friday the 11th at the CFO's house/mansion in Buckhead. Wine at the basement bar/piano lounge and food from the ginormous food truck out back. Our Uber driver said that Tyler Perry lives nearby but we never saw him. X-mas proper in Knoxville with Too Much Good Food. NYE proper at Gun Show for the second year in a row with more Too Much Good Food. Next up: dieting.