Last month we spent a couple of days in Seattle with Danice+Mason to see Peter Gabriel+Sting in concert for their Rock Paper Scissors tour. This came a week after my Big Two Day B-day Celebration first at Terminal West to see ATL Collective do Are You Experienced, then at the wonderful La Grotta for my birthday proper with Lisa+Bob. Seattle was a drunk impulse commitment a month or so before since Danice+Mason love Sting and Lisa+I love Peter. We had seen him almost four years ago in Chicago performing the So album et al. so we were due for another experience. Go West!
Lisa was up north for some company training the first half of the week, and so I met her Wed 20 Jul at ATL late afternoon and then our flight had to abort seconds before actually taking off. Some luggage door wasn't closed correctly. Ugh. We didn't make it to SeaTac until ~11 that night and then wine and cheese in the tinytiny room we ended up sharing with D+M. Still, didn't get to sleep until ~2 local time so 6 (?!) home time. No need to adjust since we return on the Fri nite red-eye to be back home for an important Sat nite event (J+S gettin' hitched). Two full days!
Thu 21 Jul
Start with the breakfast of champions at The 5 Point Cafe. It's like The Vortex inside but more... authentic? Classic breakfast and beer and solid tunes on the jukebox then on to Paul Allen's EMP Museum for music and geekness. The museum had several shows perfectly tailored for me. First was the exhibit on horror films with several original manuscripts and video exhibits on many films including Argento's Suspiria and Texas Chainsaw Massacre (Eli Roth's insights in the latter's manifestation of Vietnam veterans' anguish was compelling). Then to the science fiction exhibit that contained: the model for the Jupiter spacecraft from 2001, Leeloo Multipass's orange rubber jumpsuit thing from The Fifth Element, and an original painting from a 50s sci-fi pulf novel that was so fascinating and trashy. As much as I would love to, I really don't need to start collecting paintings like that, just for my own financial security. Two floors of a Star Trek exhibit that included information on every TV show, the animated series, and movies with the original crew, the next generation, and the reboot. Favorites were the tattered, original bridge and the original outfit for the Gorn. Neat! Onto a smaller exhibit covering Hendrix concerts abroad, complementing our ATL Collective concert a week prior; an exhibit on the history of the electric guitar (with the guitar Townsend used to write Tommy); and finally a fantasy exhibit. Phew.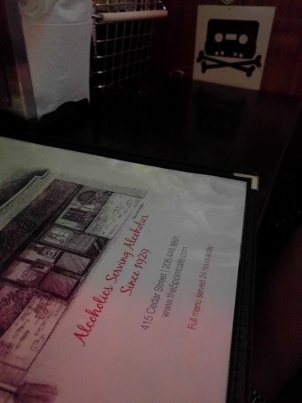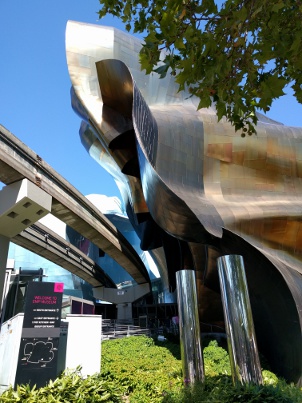 Monorail to Pike Place Market where no fish was purchased (or caught, at least by us) but much beef jerky was. Meander the area for drinks and DJ Shadow remixes at the tiny Cloudburst Brewing. It was very much like the tiny local breweries we went to in Portland Maine back in 2013. On to Some Random Bar for late-lunch-early-dinner with an old friend of Mason's.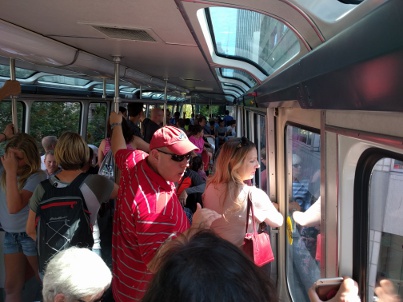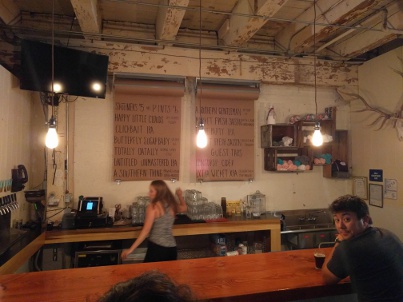 Post food+drink, we wandered over to Key Arena for the PG+S concert, stopping on the way to take pics through their office windows of KEXP's vinyl stacks a dozen or so feet high. I kinda regret that we didn't have time for a record store run while in town. The concert started with the thoughtful, psychological Gabriel piece "The Rhythm of the Heat" and followed by Sting's moody romance "If I Ever Lose My Faith in You". They felt to me perfectly characteristic of the differences between the two songwriters--but then we get the social commentary of "Invisible Sun" and the two become nicely complementary. Best moment was Sting bemoaning the troubles in the UK (Brexit had just stunned the world) by singing the opening verse to "Dancing with the Moonlit Knight" (ending at the line "...selling England by the pound.") and then "Message in a Bottle". Bleak yet peppy. He then chastised us for laughing with him at his country's fate, hinting at That Donald Trump Kerfuffle. Surprise guest Eddie Vetter came out decked in Seattle slouch-wear for "Red Rain" but was horribly underused. It was, however, very nice to hear the older Gabriel tunes. The full set list, via Wikipedia:
"The Rhythm of the Heat"
"If I Ever Lose My Faith in You"
"No Self Control"
"Invisible Sun"
"Games Without Frontiers"
"Shock the Monkey"
"Secret World"
"Driven to Tears"
"Fragile"
"Red Rain"
"Dancing with the Moonlit Knight" (snippet)
"Message in a Bottle"
"Darkness" or "San Jacinto"
"Walking in Your Footsteps"
"Kiss That Frog"
"Don't Give Up"
"The Hounds of Winter"
"Big Time"
"Englishman in New York"
"Solsbury Hill"
"Every Little Thing She Does Is Magic"
"If You Love Somebody Set Them Free"
"Roxanne" (with "Ain't No Sunshine" snippet)
"Love Can Heal"
"Desert Rose"
"In Your Eyes"
Encore was:
"Every Breath You Take"
"Sledgehammer"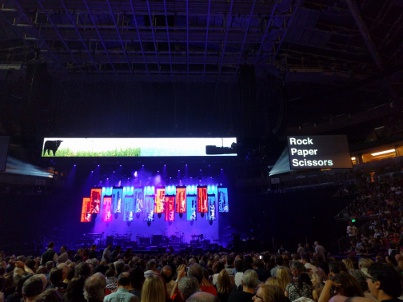 Fri 22 Jul
Friday was our full on walking tour proper.
Start with the Space Needle. We had tried the day before (when it was sunny), but the wait time after you got through the line was 2 hours. Cut to the next day (when it was cloudy) and we got right through. Go and figure. Still, a great view and worth the look on the security guard's face when I checked my messenger bag + open bottle of wine with him. Afterwards, at the waterfront, we all used it to toast a successful trip before late-lunching at Elliott's Oyster House while we wait for our scheduled tour boat to take use around the bay. Tours seem like they should be gimmicky, yet I always enjoy learning whatever local history they provide. This one talked a lot about the architectural history of the Seattle skyline along with details about the massive container ships we passed by. We finished the our tour of the water with a few trips around the Seattle Great Wheel ferris wheel.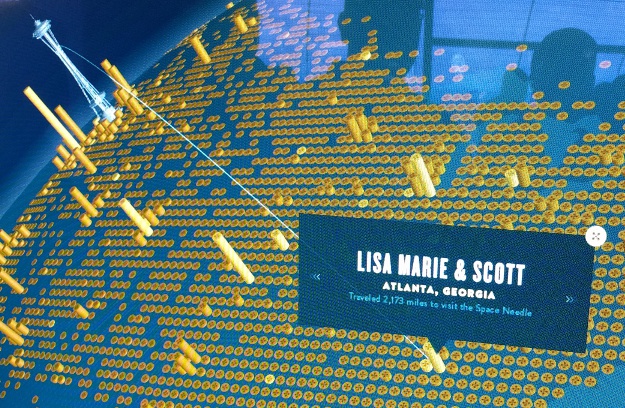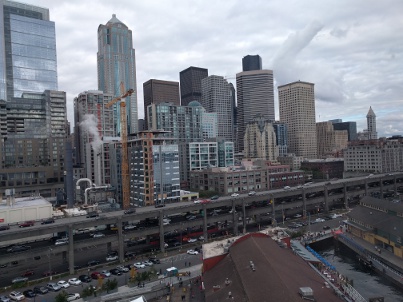 The rest of the day/evening was wandering through the alleyway with the gum wall. Wikipedia sez It was named one of the top 5 germiest tourist attractions in 2009 and I can confirm that just standing next to it made me feel 50% more germy. More wandering down an alley plastered with crazy-wonderful stickers and posters, pre-dinner drinks at The Tasting Room, then dinner-dinner at Cafe Campagne for delicious French cuisine with another old friend of Mason's. We had a red-eye to catch after midnight, so we made sure not to stay too long and drink too much. Oops, in fact the opposite happened. No matter, it was the best way to end our Seattle fun. (One thing I learned is that recovery from red-eyes has a daily half life: each day after only gets you half way closer to restfulness again.)
posted by sstrader at 9:00 PM in
Birthdays
,
Concerts
,
Where was I?
|
permalink