27 May 2013
Different Trains in Portland, Maine
[ updated 4 Jan 2014 ]
Found the flyer: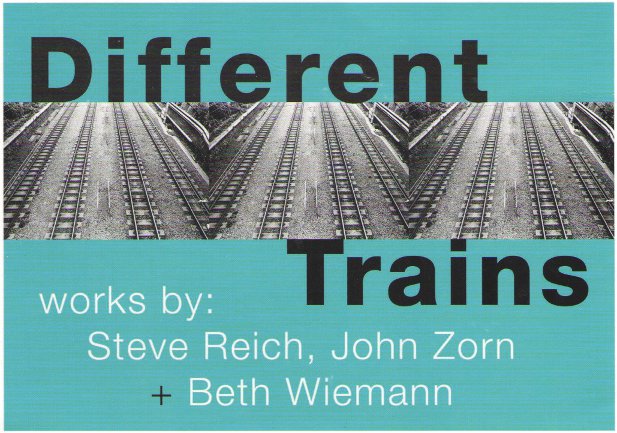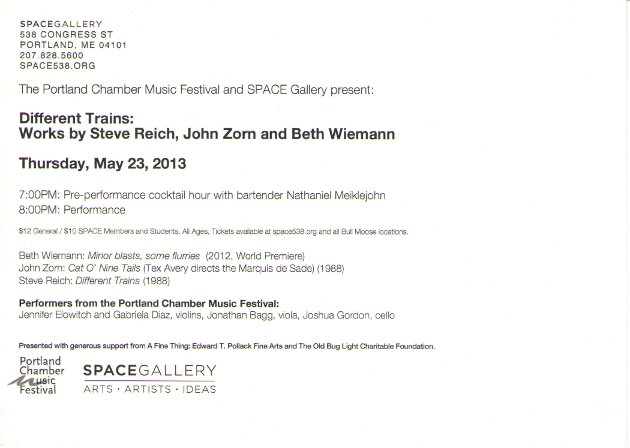 A couple of weeks back on Mother's Day, Lisa and I were driving back from my brother's and listening to Radiolab. The episode, titled Behaves So Strangely, included Diana Deutsch examining short fragments of speech. She noticed accidentally that when a few seconds of speech is repeated, its natural, tonal melody becomes more apparent and could be transcribed as a simple music motif. One of my favorite, lost recordings from college, Steve Reich's Different Trains, immediately came to mind. Reich takes interviews with people who rode or worked on trains before, during, and after World War II, and he transcribes short segments. Throughout the piece, the recorded interview segments are played over and echoed by a string quartet. As I was telling Lisa about the piece, I looked it up on Google and found that a string quartet was scheduled to perform it in Portland the following Thursday. We purchased tickets the next day.
Portland has to be one of the friendliest places we've ever visited. This was our first time visiting and the desire to go was never predicated on interest in seeing the city, but we would definitely go again. It's walkable and offers some good restaurants and, obviously, a strong art scene. And the friendly people!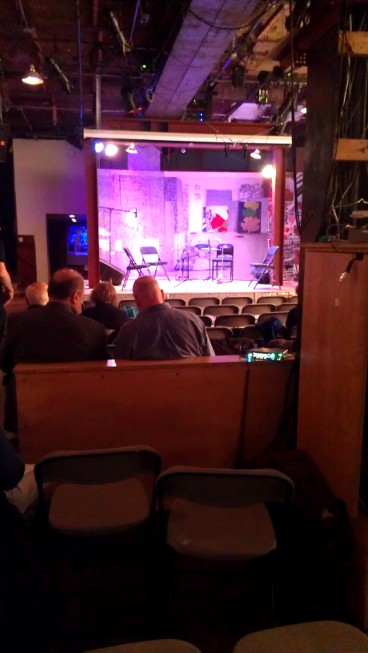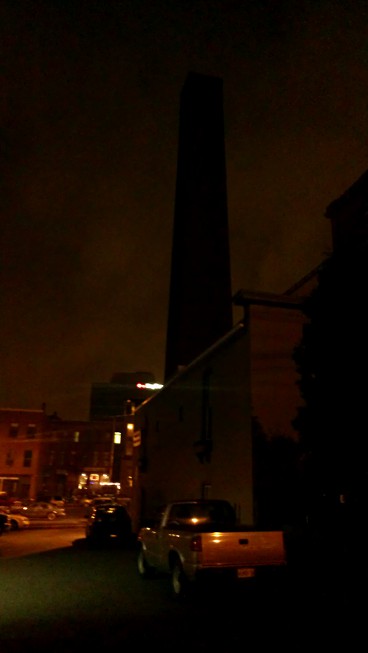 (Pre-concert at SPACE Gallery and menacing dark tower afterwards)
The concert was at the SPACE Gallery: what appears to be ground zero for interesting artwork and, thanks to the musical program, a notable range of music fans. I can only imagine and envy what the 8-year-old thought of the performance! Music was: John Zorn's "Cat O' Nine Tails", local composer Beth Wiemann's premiere of "Minor blasts, some flurries", and after an intermission "Different Trains". Zorn's piece, written the same year as Different Trains, was madcap chaos. I can't imagine not having heard it live and if Zorn didn't exist, I don't think he could be invented. Very pastiche noise that had such physical humor that it was like few other compositions. Some Zappa works from The Yellow Shark come to mind but even he might not instruct the cellist to pantomime whipping the other musicians as they simulate ouching whines on their instruments. The Wiemann piece was a beautiful, palette-cleansing episode. It put me in mind of the clarity of Walter Piston's harmonies, another Maine composer. Finally, Different Trains. Like Einstein on the Beach early last year and The Lamb Lies Down on Broadway last Fall, this was a rare opportunity that met all expectations.
Secondary culture visit was the superb Portland Museum of Art on Saturday. Many modern 20th century works on the first floor in the show The William S. Paley Collection: A Taste for Modernism. 21st century stuff caught my eye up the atrium on the 3rd floor, so we hopped up there for some stunning pieces by artists I've never heard of (and should have written down). Down to the 2nd floor for a selection of Homer, Hopper, and other northern painters. Would definitely return for the modern works.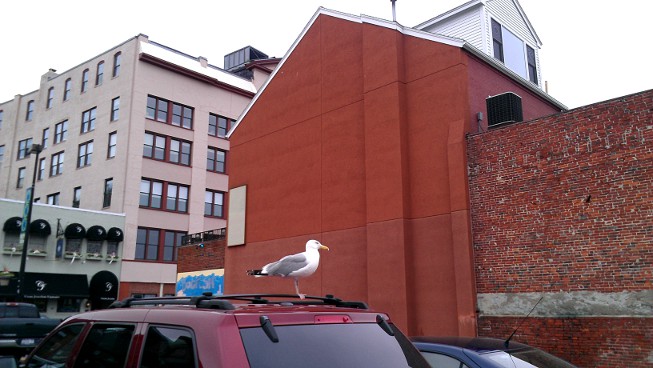 (These. Guys. Were. Everywhere.)
(The craggy coast of Kennebunkport. The dull-witted feeling you're sensing is President W's house off-camera to the left.)
Restaurants were:
Thursday, Petite Jacqueline the afternoon we arrived. One more reason why French restaurants are infallible, and the string quartet performers showed up as a bonus! I didn't interrupt their lunch, but instead stared and whispered. OTTO Pizza (before the concert) and Nosh (after the concert) for drinks and snacks. Friday, an extended nap after the four hour Maine Beer Tour, a lobster roll at J's Oyster, and drinks at Spread (hip space, drop-dead gorgeous bartender, yet inexplicably filled with what appeared to be Fox News-watching gay Republicans) had us reschedule Five Fifty-Five for the following night and instead go to the late-night Portland Pie Company (half pepperoni, half seafood). The beer tour is highly recommended. Again: friendly people and a chance to get some hyper-local beers that may never get to Atlanta. Saturday - brunch at Duckfat before a drive to Kennebunkport. Finally, the trip's fancy dinner at an upstairs table at the superb Five Fifty-Five. Sunday - donuts from Holy Donut for our drive back to Boston airport.
Another successful impromptu vacation!