April 29, 2011
A years or so ago, I upgraded ye olde home network with new hardware, virtualized the old OSes, and was presented with the decision of whether to move from an email client to web email. My only digital possessions dumped online are Twitter, Flickred pics from our Thailand trip, and a couple of years of bookmarks at Faviki. I ended up continuing to download email. (Oddly, I've gone out of my way to archive IM conversations online, but that's probably because they would otherwise exist across multiple machines.)
It's all an issue of control, and I love that a group of Google employees have created the Data Liberation Front to help ensure that users keep control of their data.
Another area of anti-cloud has been this blog and my development wiki, both hosted on a private server (trusting in the security of a good firewall configuration, frequent software updates, simplicity, and personal unimportance). With a good backup plan, I enjoy being in complete control of my data. Unfortunately, my more public site RadioWave, must reside on a professional web host, and over the past week I've felt the pain of giving up control.
There's been a flurry of anxiety-inducing, loss-of-control-type events with Facebook over the ~24 hours. Both Redmond Pie and Ars Technica had their FB pages taken down by DMCA complaints that contained invalid and false contact information.
Ars is not a fly-by-night operation, so to have them taken down so easily points to a system where oversight is approaching zero. Also on the 28th, coincidentally or not, was an article on Slashdot presenting a proposed approach to crowdsourcing the review of abuse complaints on social networking sites. The proposal recommends building a group of tens-of-thousands of randomly selected reviewers. Whenever an abuse is disputed, 100 of those reviewers would be randomly selected to vote on the dispute. Such an approach would likely eliminate the affect of any sock puppet infiltration into the community, so corporations and governments would not be able to silence unwanted criticism via fraudulent copyright complaints.
April 14, 2011
Opening sentence:
Past the flannel plains and blacktop graphs and skylines of canted rust, and past the tobacco-brown river overhung with weeping trees and coins of sunlight through them on the water downriver, to the place beyond the windbreak, where untilled fields simmer shrilly in the A.M. heat: shattercane, lamb's-quarter, cutgrass, sawbrier, nutgrass, jimsonweed, wild mint, dandelion, foxtail, muscadine, spinecabbage, goldenrod, creeping charlie, butter-print, nightshade, ragweed, wild oat, vetch, butcher grass, invaginate volunteer beans, all heads gently nodding in the morning breeze like a mother's soft hand on your cheek.
Opening sentence of Infinite Jest:
I am seated in an office, surrounded by heads and bodies.
I would love to purchase chapter 19 and send it to many friends. It manifests every political/social/philosophical discussion we've ever had. I just finished the kernel of the book--chapter 22, pages 154 through 252. A daunting, directed bildungsroman. Overall a less flagrantly bleak worldview and more bleakly hopeful. I have yet to go back and map all of the characters I've met at various ages and when I've met them. This should have been done, casually and without too much effort, from the start. There are many.
I received the book, pre-ordered, the Friday before NYC whereas it officially comes out tomorrow on tax day.
Continue reading "The Pale King; David Foster Wallace"
April 6, 2011
Last month's movies:
A restored print of Taxi Driver at Phipps. Atlanta got it and New York City did not. Weird. More humor than I remembered and it was a nice mix of improvised and scripted scenes. La Dolce Vita at Rialto for opening night of the Italian film festival. Another nice get for Atlanta: April 19th is the 50th anniversary of LDV's premiere at the Rialto, so an original 35mm print was unvaulted and donated for the evening. Pause for a break in the film around 30 min from the end, but otherwise a beautiful print of a grim view of humanity. Second viewing and I still love this film. Sucker Punch [ 3/5 ] with Matt the Friday it came out. We were set up for failure as the ~60% Rotten Tomatoes rating plummeted to 20%. Yikes. The critics were much too harsh. It was an empty-ish film at times, but beautiful to look at and inventive. Very much worth the extra $$$ for IMAX.
Last weekend, Sat through Mon, was NYC for Lisa and Nat's 1/2 marathon around Central Park. Poor training but a very good time. Restaurants were: Barboulud for lunch, a swank French bistro. Peasant for dinner; we did this on one of our first trips to NYC and it has stayed my favorite. Philip Marie for post-race brunch, nice enough, bottomless drinks with brunch. Dublin Wine bar for late afternoon goof-offery. Late dinner at Les Halles (more French!), would definitely go again. Finally, lunch at Grimaldi's Pizza to give us energy to walk the Brooklyn Bridge.
Best part of the weekend was the improvised comedy musical that Baby Wants Candy performed on Saturday night. Audience shouts a a title (Somali Pirates of Penzance!) and the actors and musicians go with it for the next hour/hour-and-a-half. This was better than most scripted comedies and tickets were but $20 apiece. I think we maybe sat by this guy.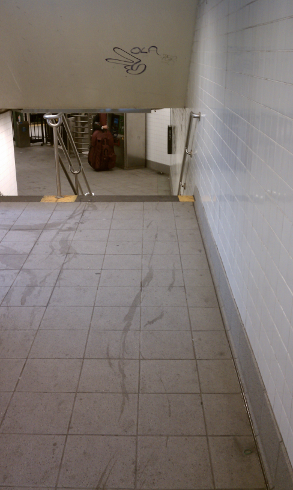 Sitting in the front row of Baby Wants Candy with the drummer drumming and a be-top-hatted snowman. Subway peace, yo.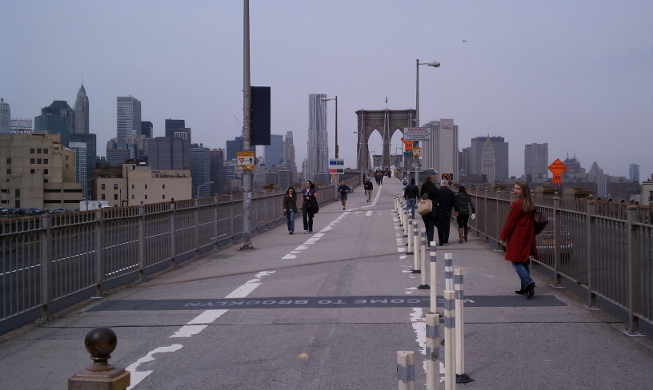 Walking the Brooklyn Bridge after some za at Grimaldi's.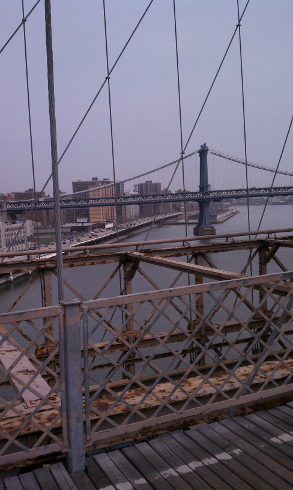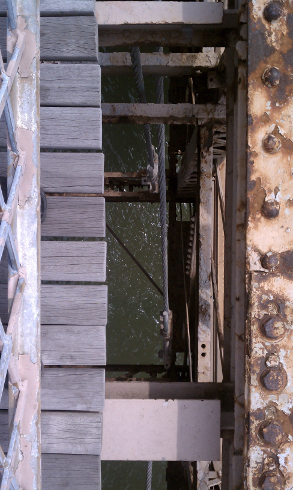 More Brooklyn Bridgery. No, I did not take enough photos.
posted by sstrader at 10:18 PM in
Cinema
,
Where was I?
|
permalink