6 April 2011
Where was I?
Last month's movies:
A restored print of Taxi Driver at Phipps. Atlanta got it and New York City did not. Weird. More humor than I remembered and it was a nice mix of improvised and scripted scenes. La Dolce Vita at Rialto for opening night of the Italian film festival. Another nice get for Atlanta: April 19th is the 50th anniversary of LDV's premiere at the Rialto, so an original 35mm print was unvaulted and donated for the evening. Pause for a break in the film around 30 min from the end, but otherwise a beautiful print of a grim view of humanity. Second viewing and I still love this film. Sucker Punch [ 3/5 ] with Matt the Friday it came out. We were set up for failure as the ~60% Rotten Tomatoes rating plummeted to 20%. Yikes. The critics were much too harsh. It was an empty-ish film at times, but beautiful to look at and inventive. Very much worth the extra $$$ for IMAX.
Last weekend, Sat through Mon, was NYC for Lisa and Nat's 1/2 marathon around Central Park. Poor training but a very good time. Restaurants were: Barboulud for lunch, a swank French bistro. Peasant for dinner; we did this on one of our first trips to NYC and it has stayed my favorite. Philip Marie for post-race brunch, nice enough, bottomless drinks with brunch. Dublin Wine bar for late afternoon goof-offery. Late dinner at Les Halles (more French!), would definitely go again. Finally, lunch at Grimaldi's Pizza to give us energy to walk the Brooklyn Bridge.
Best part of the weekend was the improvised comedy musical that Baby Wants Candy performed on Saturday night. Audience shouts a a title (Somali Pirates of Penzance!) and the actors and musicians go with it for the next hour/hour-and-a-half. This was better than most scripted comedies and tickets were but $20 apiece. I think we maybe sat by this guy.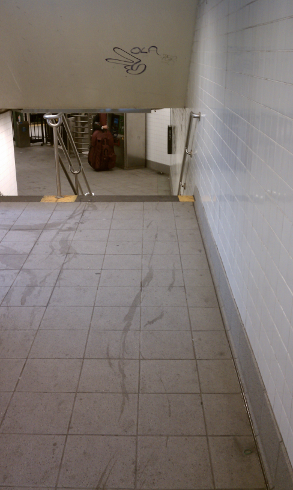 Sitting in the front row of Baby Wants Candy with the drummer drumming and a be-top-hatted snowman. Subway peace, yo.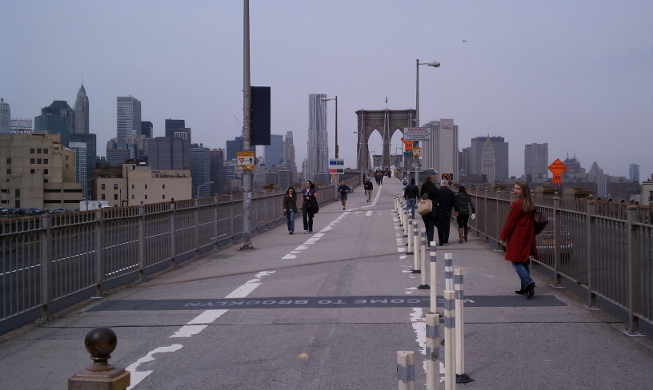 Walking the Brooklyn Bridge after some za at Grimaldi's.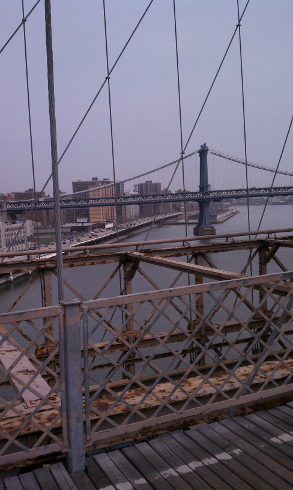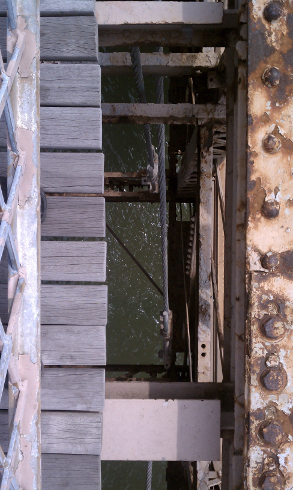 More Brooklyn Bridgery. No, I did not take enough photos.