1 July 2014
Where was I?
Italy April 2014 with the wife, brother, and sis-in-law! Part 1 here. Part 2...
Tue 8 Apr
Florence was my favorite spot in all of our Italianate travels, but in big city form, our time there was a dizzy mishmash of events. Our first full day: we walked through the Piazza della Repubblica then to the Palazzo Vecchio, the town hall built in the late middle ages.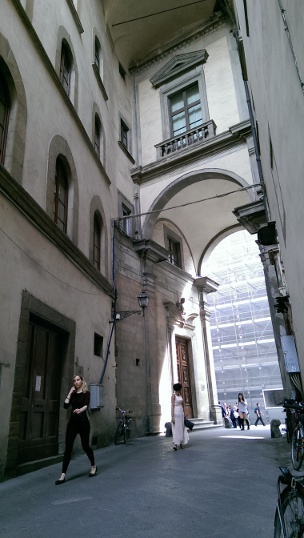 Best art of the trip was in Uffizi Gallery. We spent two hours just on the second (?) floor through maybe 10-or-so rooms. I was completely geeked out over seeing the iconic art live and in person. Another trip should be taken to visit this museum again even if just to re-look at everything I had already looked at since every painting had such a high Look Quotient. In the entrance of the museum, I bought the small official guide and am grateful to have it now for memories and as a quick art history review.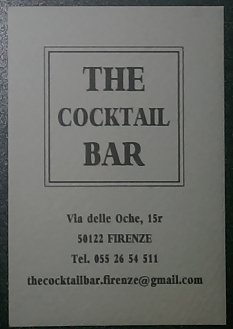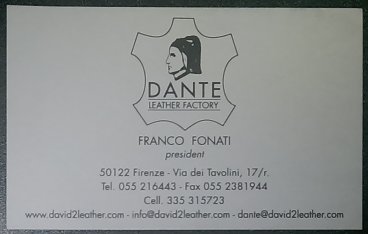 One of the oddest experiences came during and after lunch. We were in the Piazzo della Repubblica, I think, at one of the outside restaurants when a couple of guys sat at the table next to us. After a few minutes, one left and while the other was eating a bird landed on the empty seat and started pecking around for crumbs and such. From this, we started a conversation as he had heard we were Americans. His name was Gianni and his friend, Franco, soon returned. (Franky and Johnny? Really?!) Franco was the more gregarious of the two and told us of their (1) leather shop nearby, (2) winery they just started, and (3) his ancestry dating back to Dante Alighieri. They invited us to the shop, David 2, for wine and the soft-sell. Their wine's label had--and I am not making this up--a picture of Michaelangelo's David with Franco's face superimposed. I don't know what I was expecting, but that seems normal now. Their two hottie sales girls would chat in Russian, then Italian, then English as they buzzed around getting us drinks and jackets and pimp-like fur coats to try on. After dropping the price to 1/3 of a wildly overpriced initial offer, I eventually bought a leather jacket (perfect for on the Vespa!) and Lisa ordered one from a display piece. (Sadly, she has not yet received it, so we're hoping we don't have to fight too hard to get it or get a chargeback.) We also walked out with a few bottles of Franco/David wine, gratis.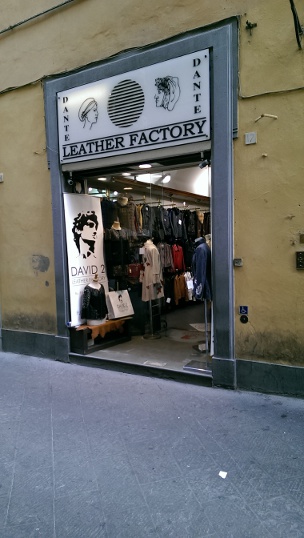 Rest at the hotel, drinks at the rooftop bar where I left to return to a record store (Data Records 93) we passed earlier in the day where I found a copy of The Lamb Lies Down on Broadway (lost to the college moving gods). I thought I'd remembered where the shop was, but ended up at a different record store (Rock Bottom Records)! Even better, they had multiple copies of various pressings to choose from. They also had an original black cover From Genesis to Revelation, their first album, for $350 Euro! Having purchased many reprints, I'd never seen an original before. Neat. The Asian lady running the shop, I think, spoke no English so we communicated in more fractured Italian. Dinner and wanderings, then end of evening drinks at The Cocktail Bar, of course.
Wed 9 Apr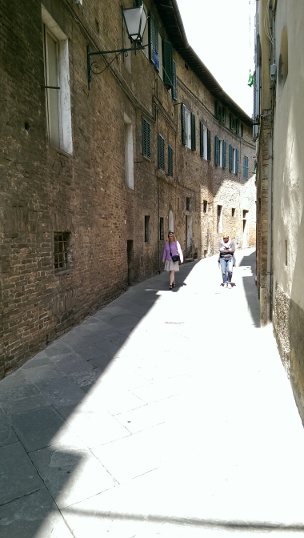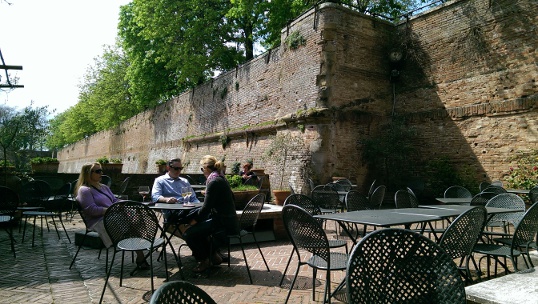 Breakfast at Cafe Giocosa in Roberto Cavalli where we completely disrupted the espresso and pastry ordering process. Cue eye-rolls. Back to the hotel and prep for the drive to Rome via Sienna care of driving direction from the lady at the front desk. As she promised, it was much easier getting out of town although the highways there were frequently hobbled to one lane by construction. Sienna is a beautiful old town and definitely part of our Next Italian Excursion. Lucky parking spot (the. city. was. Packed.) and walk to Enoteca Italiano in Fortezza Medicea for a wine tasting. Wines were: Nebbiolo d'Alba (leggiero), Primativo (frutta), Brunello di Montalcino (pesante), and Nero d'Avola (leggiero).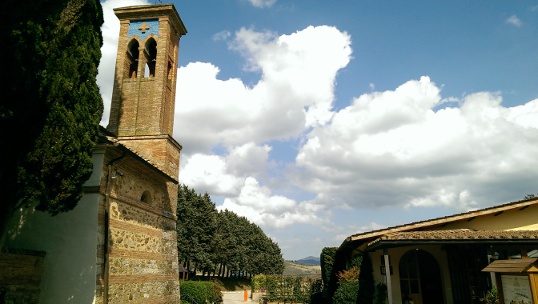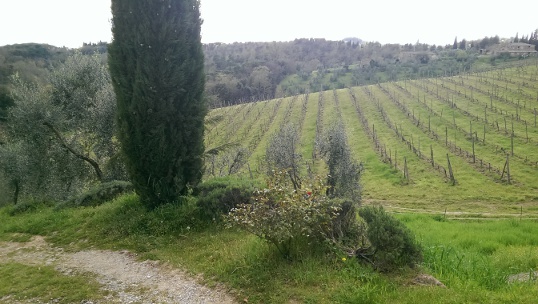 The server at the Enoteca recommended we try the Dievole winery around 30 minutes north of Sienna. The view during drive was unreal in its Italian-ness and I think we all sprouted Luigi-style mustaches by our arrival at Dievole. Because it was either mid-week or off-season or both, we were the only ones there and had the full attention of the guide. I always feel like a poor student in such a situation. Did we have good questions? Were we appropriately impressed at the correct facts? We ended with the grappa. I had tried this once before just to see what it was like and, after my vision was restored, decided it wasn't for me. Still, I had to give a second chance to some from the land of grappa and was pleasantly surprised. I'll maybe try a higher-end label again someday. Other wines were: Rosato, Chianti classico (80% sangiovese), Broccato, Novecento (bottle purchased), and Simone.
Drive to Rome! This is the end of our driving fun in Italy. We dropped the car off at a somewhat seedy-looking rental garage just inside Rome (although, I doubt my judgment of what is and is not seedy in a large, foreign city; in the rental booth, an Indian guy was watching what appeared to be a trashy Indian telenovela) and taxied to the Fabio Massimo Design Hotel. It's in an office building with a puzzling entrance, although maybe we were just tired and confused as was par for the trip. Again, very nice rooms and great location. Dinner at a nearby restaurant (?) and chats with the British couple at the table next to us. She works in real estate so Bob and her talked shop. A little brash and as insults about Germany peppered her conversation, the apparently German couple nearby stiffened. What's the equivalent of Fox News watchers in the UK?
Thu 10 Apr
Thursday was Vatican museum day. Our wonderful tour guide Angela, aka Shelly Duvall, handed out little hand-held radio things with ear-pieces and we tuned in to her mic. Neat. Distance was maybe 20 meters, but Radio Angela would go off the air suddenly if we were moving between stone rooms. If Milan Cathedral was a mega-church, I have no idea what the Vatican would be. It was a world of architecture and art and alcoves and expanse. Wonderful to see the Michaelangelo et al.'s Sistine Chapel live-and-in-person. Again: take an art history course before you go to Italy. My classes were decades ago but added much to the looking.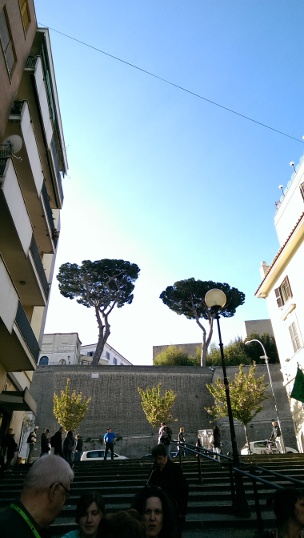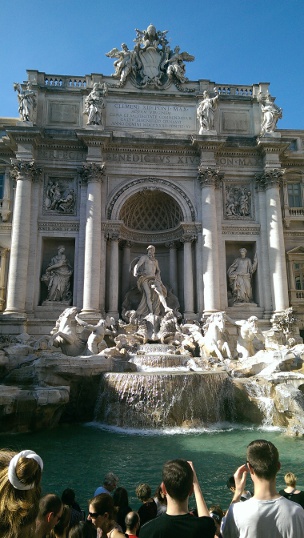 Angela was very knowledgeable in both history and art, but I did have one observation she missed. On the ceiling of one room was a painting, Tommaso Laureti's "The Triumph of Religion", of a crucifix hovering over a broken statue of (what was obviously) Mercury. I pointed this out, but Angela insisted the statue simply represented pagan religion in general and no god in particular. I was certain it was a visual pun on "killing the messenger" and my stubborn research paid off, via "The Vatican Collections: The Papacy and Art":
Tommaso Laureti's The Triumph of Religion, on the ceiling of the Sala di Costantino in the Stanze of Raphael, in the Papal Palace (fig. 42). The painting depicts an antique statue of the god Mercury lying broken on the ground, at the base of the triumphant cross of Christ.
Vindicated! Still, you could look at the artwork there for years and never absorb it all. Not as interesting to me as Uffizi, but still engaging.
Notes are fewer from this point on. After walking to the highly recommended Pizzarium (oh no: it's take out only!) we instead had lunch at La Scaletta. Various combinations of Bresaola, arugula, Parmesan, cheeses, pizza. Some more walking around (?) hotel (?) then one of our best meals of the trip at a place oddly named Tastevin. This really was a high point. After, we walked back to Piazza del Popolo across the Tyber, through what might have been a scary area of town (skate punks!), and learned that Rome is not a late night city. Nothing open, so we close out Rosetti with bottles of wine, olives, and potato chips.
Fri 11 Apr
Metro to the Colosseum was soooo easy possibly because their Metro is as limited as our MARTA: only two lines! Beautiful collapse and decay all around. Nice walk nearby to smaller ruins. Outside alcoves with amazing art barred off. A small church with enormous art. Actors dressed as gladiators. For some reason, the day presented many questions: How old is the Colosseum (built in 70-80 CE)? Pantheon (built in 126 CE)? What is the Jubilee (every 50 years you're cleared of sin!)? Who makes Smart Cars (Daimler)?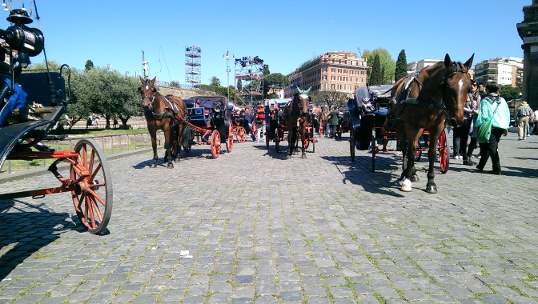 Pantheon was as-or-more intimidating in scale than sections of the Vatican. People. Actually. Made. These. Things. Lunch outside at Il Miraggio near Trevi where we finally got pizza (!) with grilled vegetables (!!). Then to a very classy part of town to San Marco for drinks, fancy beer La Rossa Forte. We took over the hotel dining room for pre-dinner snacks of bread, cheese, and meat, purchased from a local grocery store and butcher shop. Dinner around the corner at the very modern Osteria Centouno. Back to the hotel.
Sat 12 Apr
The end.
Ride to airport. Stopover at Amsterdam, "Baby's on Fire" guitar solo playing in the airport! KLM to Atlanta watched Korean time-travel flick 11:00 A.M. (3/5), We Are The Millers (3/5), and Frozen (3/5). Home to a broken washing machine. ¯\(ツ)/¯