31 May 2014
Where was I?
Italy April 2014 with the wife, brother, and sis-in-law! Part 1 (and part 2)...
Fri 4 Apr
Started in the ATL terminal E, headed to JFK then Milan, with beers at the Belgian Beer Cafe. Exotic! Mechanical problems with the plane front loaded our vacation with a 3 hour delay, so we continued to bar hop at One Flew South. More Exotic!! Good wine and scallops for me. A risky gambit before an international flight, but it paid off. JFK was a confusing mess with no signs where to go. We eventually wandered outside, down a street of construction, and then into a different building to the correct terminal. It was a more foreign and confusing experience than all of Italy. Blech.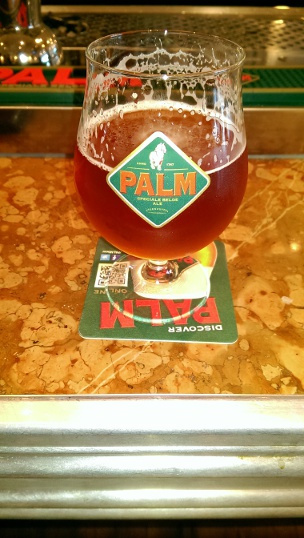 Sat 5 Apr
We hit Milan a little before noon. Minor difficulties getting the car started (derp) before heading into the city for lunch. Four people, our luggage fit perfectly and was hidden away; Google Maps on my phone guided us towards Milan Cathedral near the Arco della Pace. Once parked, a random lady on the street attempted to help us during our first of many foreign confusions: how to pay for parking?!? Foreign travels allow you to revel in feeling stupid. Once payment was accomplished, lunch at some university cafe that, for our first meal, was a miss. Although the food was unimpressive, the cathedral was stunning in its architectural representation of a Renaissance mega-church. It was also the first of many examples during the trip of X-tian-inspired horror vacui. So many finials!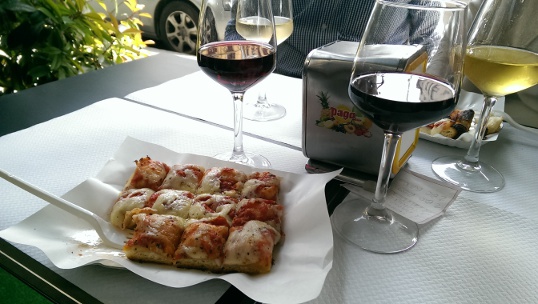 After wandering about the cathedral, we (eventually) reunited with our car and headed towards Santa Margherita and the coast. If we weren't so tired from the flight, we would have stopped for pictures along the way or even detoured to Turin. This was the first in a checklist of items for our Next Italian Excursion. Once in Santa Margherita, we checked in at the amazing Grand Hotel Miramare, rested, wandered, drank wine outside at a cafe as night approached, and finally ended up at La Paranza for our first official meal. Back to the hotel for drinks at the bar where I think we kept them open longer than they wanted. Insert, I imagine, exasperated Italian eye-roll.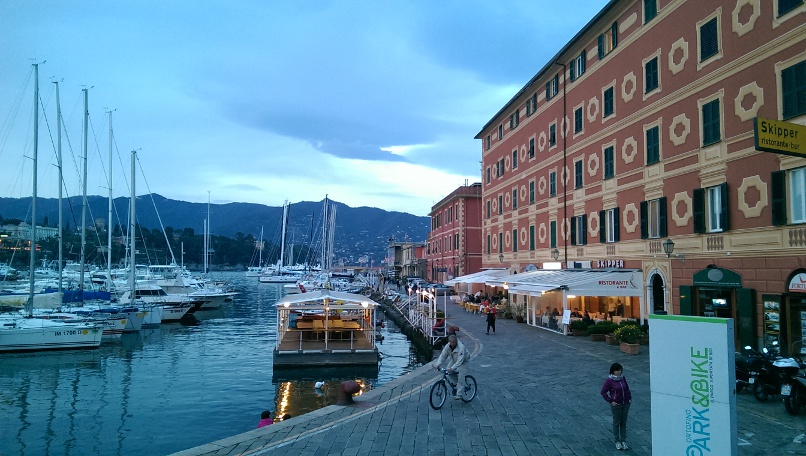 Sun 6 Apr
Perfect weather the evening before continued through the morning and stayed the entire week we were in Italy. I did breakfast at the hotel to read and prepare for our walk to Portofino. The hotel had a xeroxed in-house newspaper to keep us jet-setters caught up with the world. Even though there were only 10 or 15 articles from around the globe, a Georgia politician still made it in with some sort of homophobic or pro-gun mania. Sigh.
Beginning our day on the coast, we followed a narrow road with small groups of other walkers and joggers enjoying the views of ocean and villas. Outside of Portofino, three or four classic sports cars appeared as a tour bus was coming in the opposite direction. Apparently, the swells rent them and tool around the coast. Take-away from Italian traffic: no one ever gets in a wreck and (except for one incident where Italian swearing made an appearance) no one ever gets angry (ok, the one incident was directed at us when we went into the wrong lane of a toll booth and had to back out). First stop: drinks at Sottocoperta and people-watching in the piazza, a little wandering around, then lunch at La Stella after I negotiated a table via my fractured Italian and the host's much-less-fractured English.
For a couple of months prior to the trip, I studied Italian since I greatly regretted not learning the local language before our trips to Thailand and the Dominican Republic. (We were shamed considerably in the DR during one excursion when a French girl chatted both with us and with the locals. I never felt more the ugly American.) My language studies process included audio lessons and Duolingo. The audio I did every morning on my drive to work using some inexpensive CDs by Global Access, uploaded to Amazon for streaming over my phone. Inexpensive = old = many references to using "travelers' checks"! The effort, though not perfect, helped considerably. My biggest mistake was not getting more deeply into food and meals. All said, I will never again not study the local lingo.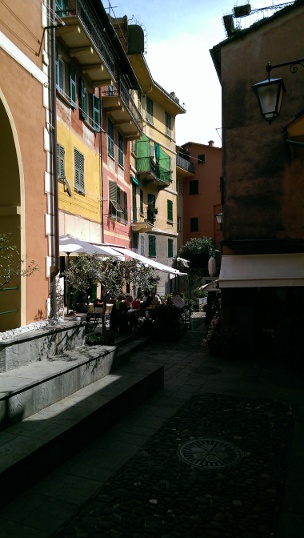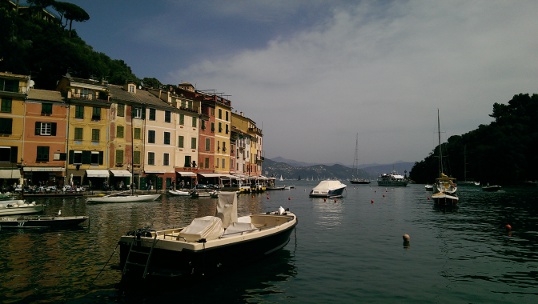 Evening was a cab ride into Rapallo for dinner at Ristorante Pizzeria Bella Napoli. First stop (noticing a pattern?): wandering and drinks and people-watching at Caravaggio Cafe. Every place you go gives you bread and olives and other snacks, so it was difficult not to fill up before dinner. At the restaurant, Giovanni helped us through the menu and brought us some amazing wines. We struggled with a conversation about his love of barbecue and taught him that there's more than one type of barbecue. He was delighted. After dinner was limoncello, gratis, though I'm not sure he expected us to finish the entire bottle. We overstayed our welcome (again, more Italian eye-rolling) and seconds after we walked out the front door the entire staff exited and headed home. Giuseppe cabbed us back to Santa Margherita and then kept us occupied another half hour outside the hotel as he told us of his many, many side businesses.
Mon 7 Apr
[ updated 5 Jun 2014 ]
Morning before leaving, I jogged ~10K from Santa Margherita to Portofino and back. On the way back, there's a path away from the road and up the hill that cuts through woods and neighborhoods and a small waterfall. Beautiful! I wanted to jog in Florence and Rome but didn't get to, so this was perfect. My sis-in-law jogged in those cities: she said that Florence was nice especially along the river but that Rome wasn't very jog-friendly.
Next day! Drive to La Spezia where we took a train to Monterosso with the intention of walking several of the cities of Cinque Terre. Navigating the highways with Google Maps was generally easy--our generation is spoiled, the next is going to be worse--but one wrong turn onto the Italian highways can mean you're stuck for the next several kilometers before you find an exit, and that exit will not allow you to turn around until you're another several kilometers off the highway. Hypothetically. And, hypothetically, the town you will finally be able to turn around in will be called Recco. (Recco's Law, noun - the adage that the simplest task, when done in a foreign country, will take up to three times as long as normal to accomplish.) After this, we were very careful with directions.
Finding and navigating the train station was an experience and after we missed the first train by seconds we eventually hopped onto our Trenitalia car with the other ill timed tourists. Why doesn't the US have an elaborate train system?! We were quickly spotted by a "local" "artist" who tried to sell us some Cinque Terre landscapes and--I kid you not--oil drawing of sad clowns. We, respectfully, demurred. Once in Monterosso, and confirming what Lisa overheard from other travelers, we learned that the walking route was washed out by flooding in 2011, so it ended up being Uno Terre for us. Second item for the Next Italian Excursion. Still, delicious food and wine (and so much bread!) at Cantina di Miky. We did not have the local specialty of sardines, and I have regret.
Next stop: Florence and the Hotel Cavour!
As we entered old Florence, we realized that (1) roads are very narrow, (2) they are filled with people, and (3) GPS drops immediately, leaving you unsure where the hell you are on the map. We drove the maze of one way streets and piazzas that looked-like-you-shouldn't-be-driving-in-them-but-you-really-should and finally found our way to the hotel. It probably only took five minutes but it felt like we were constantly on the edge of something horrible happening. It did not. Once we found the hotel, we could only park on the street illegally 1/2 a block down. Multiple attempts to back up 40 feet to the hotel were blocked by bicycles, cars, and delivery trucks timed perfectly to thwart us. The attempt was abandoned and a hotel driver finally came to rescue us. We would, happily, not join car with Florentine streets again until leaving.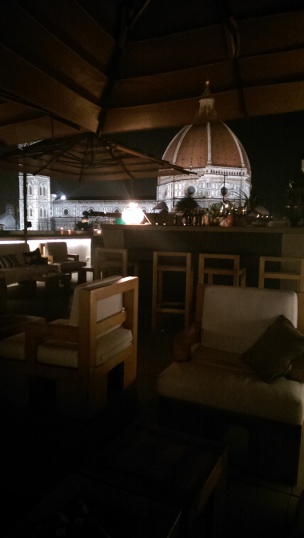 The hotel's rooftop bar has a view of Florence that was worth the entire trip to Italy. We hung out for drinks, too many delicious bar snacks (really?!), and then went to dinner at Paoli. Much like everything in Florence, Paoli is built inside of ancient architecture and stonework and arches. We were immersed in a mix of Renaissance and modern and ended the evening in the modern at a newly-opened joint called The Cocktail Bar. Jazz and craft cocktails. This became our home for the remaining, too few, evenings in Fiorenza.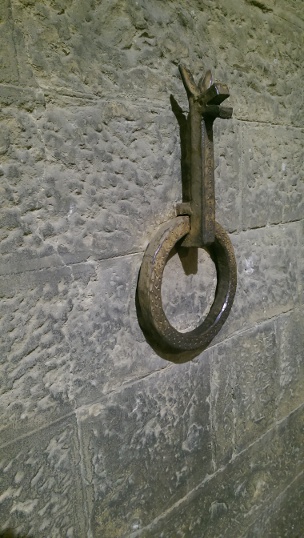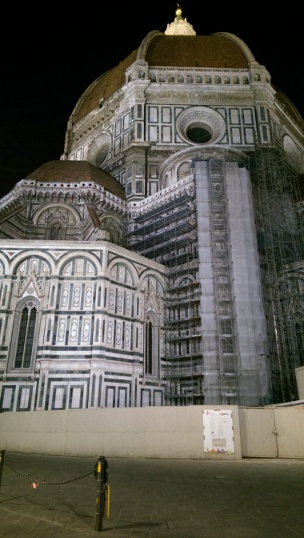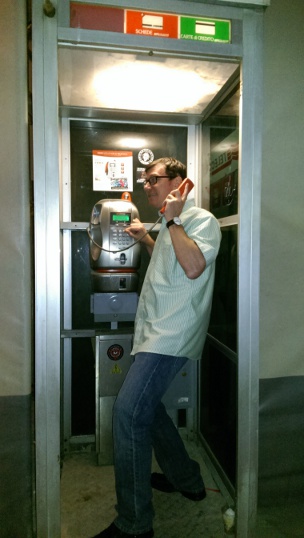 Part 2...