15 April 2017
Weekend in Austin
Impulse-bought tickets to see Kool Keith at Antone's in Austin the weekend of April 7th. In late Friday and out late Sunday.
Friday night was drinks at the Driskill Hotel bar where we were staying (and where we stayed back in 2012). Snacks-for-dinner at the Easy Tiger beer garden where we learned our patio-bench neighbors ran out on their bill (waitress: "I don't suppose you saw where those people went, did you?"). More drinks elsewhere then the best Late Night Pizza I've ever eaten in my life at Peckerheads (sausage and mushroom?). Back to the hotel at around 2.
Not-too-late start next morning/noon and lunch/brunch at Irene's. Biscuits and gravy and eggs and bacon and a bottle of champagne for mimosas. Irene's locale took us west so we went further to Waterloo Records (sadly no purchases) and then HOPE Outdoor gallery. I'd heard about it from a Reddit post where some people painted a cool Ghost in the Shell mural. The mural was long gone, but the park was still cool: weeds and dirt and concrete structures all covered in graffiti with a dozen or so guys painting new ones. Recommended. Then drinks (and A/C) just down the street at a south Louisiana restaurant called Shoal Creek Saloon.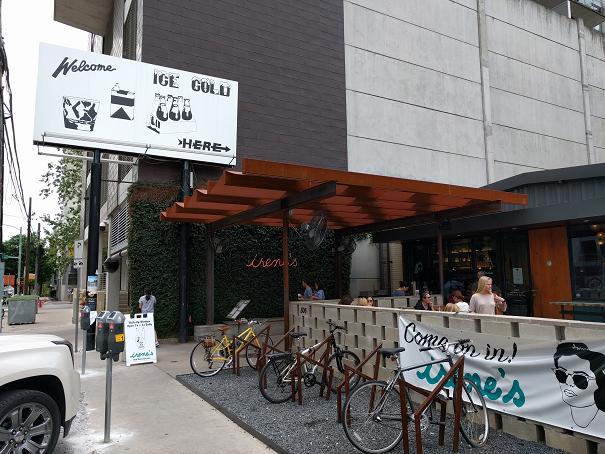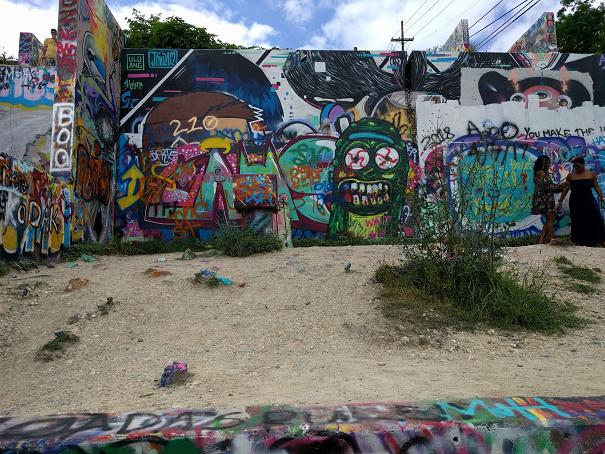 Remnant of the GitS mural
Back to the hotel for what was to be a short nap but what wasn't. Panicky wake up and abandon dinner Plan A (Justine's had a 45-minute to hour-and-a-half wait (enjoy the soft-core porn at their web site!)) to Plan B at Perry's Steakhouse close to the hotel. Piano and guitar jazz/pop at the front room seating with Thelonious Monk, Gerry Rafferty, The Beatles, and several other jazz artists I couldn't place. Next stop: Antone's for some music! Caught the end of the openers Cure for Paranoia: smooth singing/rapping with a touch of psychedelia. Then the beginning of Money Chicha: 60s, singer-less organ/guitar/latin percussion group. (Minor interruption in the middle of their set for me as I had to run back to the hotel to resolve gastro-intestinal dystonia!) Back for Kool Keith who played till around 2. Highlights were sections from Octagonecologyst including the infectious Earth People, several from Feature Magnetic, a tray of chicken wings brought out to the bar (I took caution from my recent history and passed on them), and some freestyle with Bushwick Bill (who later did some recordings with KK in the studio until 5 that night). Perfect concert!
Who's kool?
Sunday started with lunch/brunch at Swift's Attic. Spicy Bloody Mary bar and delicious croque madame for me while looking around for members of the advertised Strader/Fiedler wedding to see if I would recognize any long lost relatives (nope). We then had a couple of hours for museum-going. First, The Contemporary Austin for a show of paintings by Garth Weiser from the last 10 years. Amazing layers of paint and lined textures that look different from every angle and range. Refreshing. We also saw a short silent film by Mark Lewis titled Galveston: camera view slowly descends on a tall office building, ending upside down at street level passing through the town. It made the rest of the day seem unusually right side up. Next stop was the Museum of the Weird! Mummified babies, two-headed animals, and fur-bearing trout (my favorite) in the front room with the Minnesota Iceman stored in a freezer in the back. Four of us also got a show from a man who can hold on to live wires without getting shocked. Coincidence of the day: both he and Bushwick Bill were little people.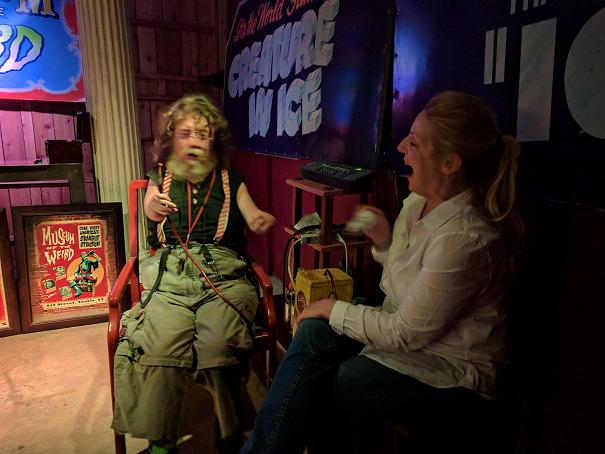 Electricity is weird
Final drinks at The Jackalope (in between Late Night Pizza place and Museum of the Weird) where we watched Mars Attacks! Off to the airport where boarding was delayed then takeoff delayed but we lost the right to complain after hearing about what happened on that United flight the same evening. Home in time to be reminded that we had to shut off the water just before leaving for the airport because of a leak. The bucket held throughout the weekend, so no unwelcome surprises.