19 November 2017
The year's concerts
18 Mar 2017 - ATL Collective performs License to Ill at Buckhead Theatre. Got there and were wackily surprised that this was part of the Atlanta Jewish Music Festival. Oh yeah, they're Jewish. Lisa and I got a refrigerator magnet with a pic of us, with me in my stylish Molly Hatchet tee. Swank. The show was good-not-great. More reading the lyrics from cheat sheets than there should have been. But man that magnet is sweet.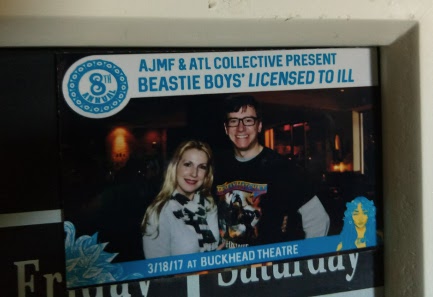 8 Apr 2017 - Kool Keith at Antone's in Austin, TX. We randomly saw this listed somewhere and immediately bought tickets for a weekend. Austin is the place. Details of the whole shebang here, including the mid-concert hot wings. Go see him, earth people!
19 May 2017 - ATL Collective performing The Eagles Hotel California at City Winery. I was never a super fan of The Eagles, but this was still a entertaining show. ATL Collective generally makes an album worth it. As always, good mix of singers.
14 Jul 2017 - ATL Collective performing The Beatles White Album at Terminal West. Absolute perfect opening, but they also recreated the unevenness of this album. Still, some of the worst songs on the album were given interesting tweaks (Bungalow Bill had everyone on stage swapping voices perfectly). Center songs were remade with solid R&B flair.
1 Aug 2017 - DJ Shadow at Center Stage. What an amazing visual/musical mix. I don't know how many times I've seen him, but it's a new experience with each setup. Less Mountain Will Fall material than a mix of older and just randomness. Back seats but there're no bad seats at Center Stage. Would love to have a recording of it.
7 Oct 2017 - Project Pabst in East Atlanta. We had gone last year (Mastodon and Run the Jewels headlining); this year was Peaches, Dinosaur Jr., and Iggy Pop. Started with a traditional pizza lunch at Argosy (along with a new tradition of mid-concert drinks in their awesome back room). Before the headliners were various local band on outside stages and inside The Earl. I finally got to see The Coathangers! Third (?) time seeing Peaches and her outfits were.. just wow. She is the goddamn best. Dinosaur Jr. guitar work was great to hear for the first time live and Iggy Pop is a 70-year-old who lived an excessive life who I can only hope to be as energetic as. I recommend this over Music Midtown just for the pure messiness and indie-ness of it all.
24 Oct 2017 - King Crimson at Center Stage (setlist). A band I was introduced to when Discipline came out and dug into the rest of their catalog in subsequent years. Red and Starless and Bible Black are two that are still in rotation. The musicians for the concert were three drummers with full kits in front, with the back row, left-to-right, consisting of a woodwind player, Tony Levin on bass/stick, singer/guitarist, and Fripp. Strict rules of NO CAMERAS enforced until the end. Crazy-good drum opening, extended pieces I was not familiar with (possibly from The ConstruKction of Light?), old tunes, and my favorites. Top of their game.
We will end the year with Britney Spears' last Vegas show on December 31st. Neat!