19 December 2004
Currently Listening To
My Life in the Bush of Ghosts should be required listening for anyone interested in pop electronic music. Released in 1981, this work was both a product of its time and a milestone. Byrne and Eno drew from existing pop and experimental styles and fltered them into a definitive expression of those styles. Their daring may seem at points quaint now, but I always find something that still surprises. Greater minds than mine have dissected this many times prior, so I'll just point out the line from the seminal opening track "America Is Waiting." The track samples what sounds like a venting talk radio host, punctuated against the jerky, clumsy 5/4 rhythm: America is waiting for a message of some sort or another. Out of context, the emptiness of that phrase is brought to the surface. A medium dispersing "messages" can only recycle the presence of need but itself can offer no content.
I got into a knock-down-drag-out last night during a family dinner over George Winston of all things. Invariably, Philip Glass came up as the perfect counter-example to the spare-but-cliched music of Winston. The Hours is a pleasant collection of short pieces from the film. There is also a solo piano release available. I don't have either and am listening to them on Rhapsody, so this CD's not on Radio from the Ether. I purchased the Symphony No. 3 CD from a birthday gift card but hadn't taken the chance to give it a good listen.
My friend's label, OttoTone Records, released its first sampler last week. The Web site is a little in flux (I swear I'm working on it...), but there's an abundance of tunes on the sampler from the best of what west Georgia has to offer. Check. It. Out. Why don't you?

My Life in the Bush of Ghosts; Byrne, David Eno Brian [Radio from the Ether]


The Hours (Soundtrack); Glass, Philip


Symphony No. 3; Glass, Philip [Radio from the Ether]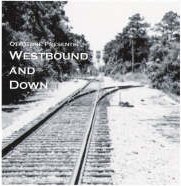 OttoTone Presents: Westbound and Down; Various [Radio from the Ether]