6 June 2005
NYC trip
A thrilling tale that includes grand coincidences, delicious meals, odd music with dancing that was abruptly cut short, and a great deal of luck which slipped away near the end but ultimately carried through to our return home.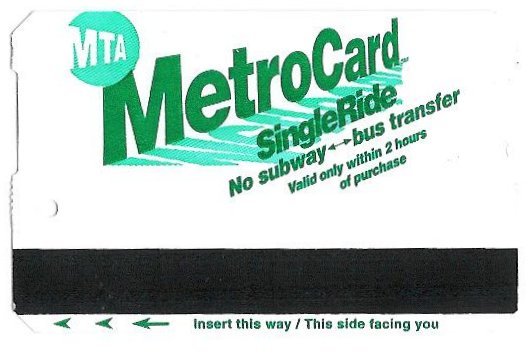 [ Thursday ] [ Friday (day) ] [ Friday (night) ] [ Saturday ] [ Sunday ]
Thursday
This was the best NYC trip since we began five years ago. Although there were problems almost every day, the successes were so successful that the problems didn't matter. I did a half-day of work last Thursday in order to catch the 4:00 flight to Newark. This was our first time using the Newark airport, but it saved us a couple hundred bucks. Our flight out was delayed so we had to while away our time at an airport bar--a lot of time--so it was our first big expense of the trip: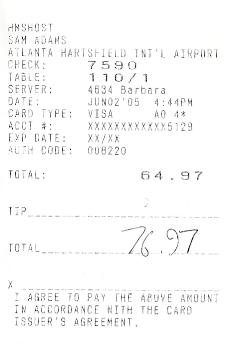 The arrival and shuttle into Manhattan was smooth and we quickly checked into the Amsterdam Court Hotel, met up with Shelby & Robert, and headed off for our dinner reservations at Peasant (rescheduled several times, but we finally made it there at 10:30). The restaurant was amazing. The food, the atmosphere: perfect. My only regret is that we didn't make it to the wine bar downstairs after dinner, but there's always next time.
After that, we hit some dive called Gatsby's. It was a bar; what can I say. Drinks till late into the evening, then back to the hotel.
Friday (day)
Plans were for wandering around the city for lunch and to see the Statue of Liberty [Wikipedia], then off to shows and bars that night. Lunch was at Pastis. We got lost on the way (note: Greenwich St. becomes 9th Ave.) but eventually found it and beat the rush by mere minutes: our first of several close calls. Although we had read that it was over-priced and under-portioned, we were all very satisfied. Another big score for the restaurants.
We walked for an eternity, met some pigs and graffiti...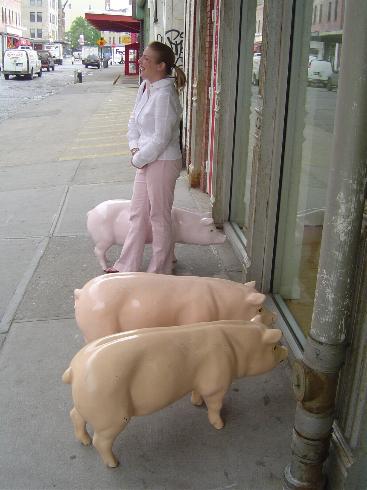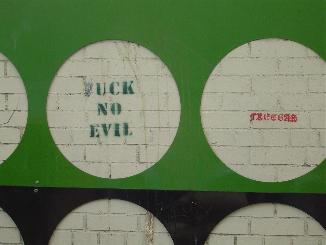 ...plotted our path to Lady Liberty on the map...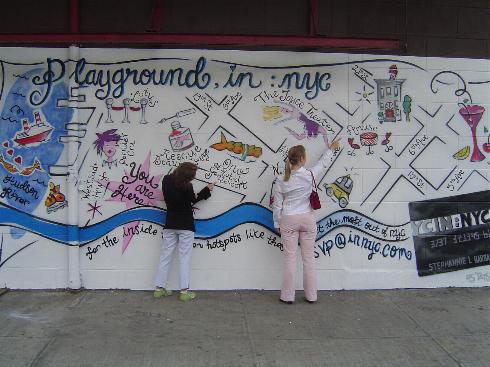 My initial plan for Lady Liberty was to take photos that looked like Lisa was makin' out with her once we got close enough. I didn't trust that plan, so I decided to have Lisa balance the statue on her finger. That didn't work either: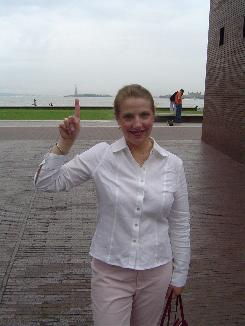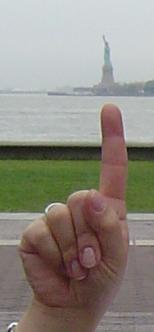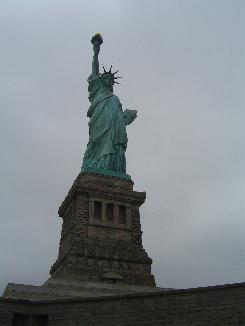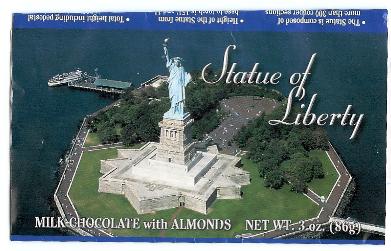 (Does this chocolate bar make my ass look patriotic?)
In case you're not only tired, poor, and huddled but also mentally deficient, they give you a ticket with "souvenir half" written on the stub. ?!?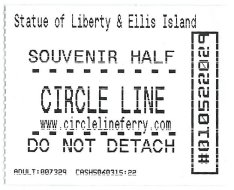 Friday (night)
Shelby & Robert had tickets to The Phantom of the Opera. I hate Andrew Lloyd Webber, but they said they really enjoyed the show and that the sets were amazing. Lisa and I went to hear Philip Glass and his ensemble perform his soundtrack for Naqoyqatsi as the film was projected behind them. We saw Koyaanisqatsi in the same format at the Fox a few years back and were astounded. With this film, not so much, but we enjoyed the music and the cello part was often very affecting.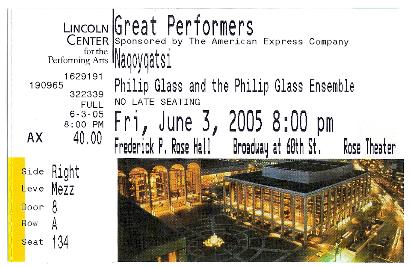 After the show, drinks at the bar the Stone Rose and our first-and-only famous person sighting. Slightly famous. The director of the film, Godfrey Reggio, hung out for a while with a few of the musicians and some miscellaneous hipsters.
Then, off to Crobar for DJ Sasha. We stumbled through the address with the taxi driver and he immediately knew where we were going: the land of the ultra-hip. Me, not so much, but I tried to fit in. Fitting in meant $12 vodka Red Bulls and $11 beers. I tried too hard. Opening for Sasha was Sandra Collins. Although a little repetitively dancey at first, the last half hour of her set was more entertaining. Sasha was a let down. He began very conventionally with an almost unaltered version of a Killers song (they were in town for a show the next night), then continued with much more experimental mixes. But we may have been a little burned out (~4 AM, only alcohol). Shelby took an amazing 10-second video scanning the dance floor with her camera--I'll post later. The evening was to end with food at a place called Cafeteria, but we had the wrong address and it's apparently not as famous as Crobar, so we found a Greek diner called, naturally, Diner and had The Best Gyro Ever (our words, not theirs) while Shelby slept off some bad mojo. Her dinner was saved for a cold, but according to her, very good, breakfast at around 1 the next afternoon.
Saturday
Last full day and it was once again beautiful out. Museums and The Knitting Factory. S & R hit the Metropolitan (unfortunately under renovation so the whole front of the building was covered in tarps) and L & I hit the Frick. Among many other items, we saw some amazing pieces by Turner [Wikipedia], Whistler [Wikipedia], and a warm landscape by Corot [Wikipedia] (not normally a favorite of mine). Best of all was the Hans Holbein portrait of Sir Thomas More [Wikipedia] (shown there). Seeing this famous painting "in person" was captivating. We bought the gallery book and I got a postcard of the painting, but neither come close to the richness and sparkle of the original. We burned through the Frick very comfortably in about an hour but could've used a little more time. It's an amazing house and an extremely solid collection.
Dinner was in Chinatown at Mr. Tang's. Another direct hit with restaurants, and some of the best soup I've ever had. My fortune, however, was inexplicably weird:

We then made it down to the Knitting Factory for ... The Loser's Lounge [Wikipedia]! A "tribute" band that periodically switches who they're paying tribute to. Saturday it was a rare battle of the band as they switched between The Cure and The Smiths. Almost too maudlin of a pairing, but the band members' wry sarcasm evened out the youthful depression of Steven and Robert.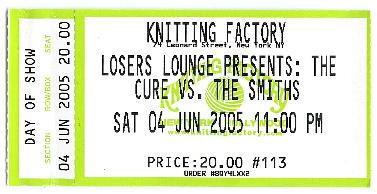 The evening ended at a bar-we-had-been-to-before-but-whose-name-had-since-changed-and-which-now-I-forget, then to the pizzeria near the hotel for the requisite late-nite food. I remember having a slice of mushroom pizza, but I'm told it was sausage and peppers (which sounds more like me, so I'll believe it). Hazy return to the hotel and sleep.
Sunday
So depressing. We got a late start and missed breakfast with S & R. Ended up going to the Morrell Wine Bar And Cafe for a light lunch (listening to one of our neighbors insist that he was served a different cheese in his salad than he had ordered, not quite good enough to make it on to Overheard in New York). In Times Square, I hesitated and now regret passing up the $5 bootleg DVDs of House of Wax and Sin City. On our way back to pick up luggage and catch the shuttle, we stumbled upon this exclamation concerning our brother-in-law-in-law: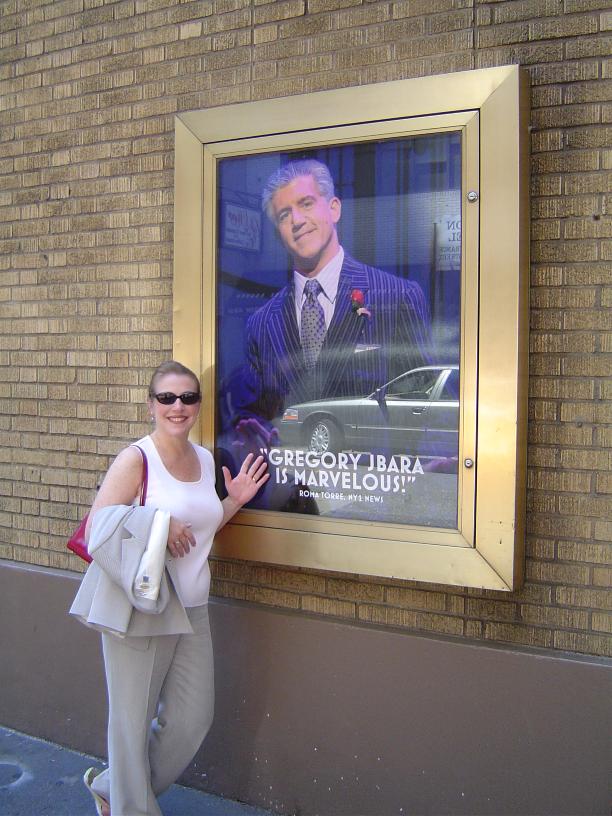 To our horror, we realized that it was actually Greg behind the glass. Something about contractual obligations. We bought him a Mister Softee and continuted on our way.
And finally, as with everyone of my friends who travelled this weekend, our flight back was delayed. Our original flight was at 4:15. By 8:00, we almost got separated onto two different flights, until our Weekend Good Luck kicked in one final time to open up a second seat on the flight. But then, the good luck slipped away as the weekend left us, and our luggage became inexplicably lost. We've since been reunited with it, but it's just not the same.