19 August 2005
Behold: Another napkin!!
We're like an improv group that gets worse the more we work together. This month's poll, "What was your least favorite job?" revealed a marked creative decline not only in questions but answers. I blame activist judges, of course.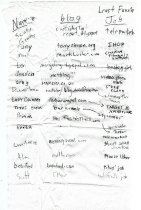 The history:
Someone really needs to start archiving these better...