7 September 2005
You are not forgotten
BoingBoing is doing a good job trying to keep up with the media chaos that is Katrina. Check out this IM transcript from the Astrodome. Fox News is down on the floor. I'm in dome, hiding in seats. They're allowing some media on the floor, not others. The situation seems very uncertain. Although I'd like to think that we should be able to know with certainty if there're unreasonable restrictions being put on the press, anyone who'd want to place those restrictions would want to work within a gray area--making it difficult to determine what to dismiss as merely rumor.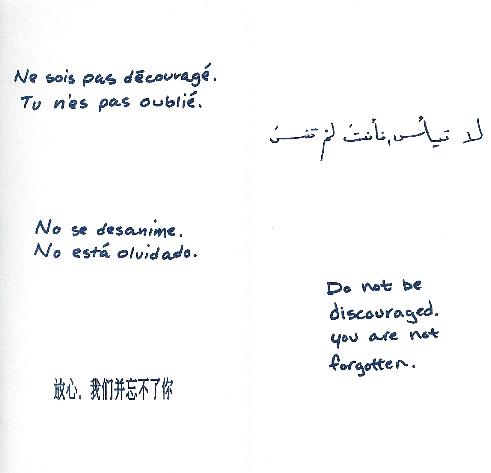 (This is a card that Amnesty International provides to send to political prisoners around the world.)
BB also points to this report that the press is being turned away from New Orleans. Pair that with an evacuee's comment from the IM report above:
Evacuee Dianne Stafford: "They blew the levee to save the city…" Saying a barge broke the levee. She is from St. Bernard Parish. "More expensive places were saved at the expense of the neighborhoods that aren't as valuable… Rebuilding Bourbon Street matters more to the government… that's what mattered to Governor Blanco…"
These photos are from within the Astrodome.