13 November 2008
Phoenix
Gizmodo had the Phoenix lander blog over the past few weeks. They were entertaining and accessible. Here they are, in order:
The tone, like that of the lander's tweets, is conversational, light, and informative. An image taken by the Mars Reconnaissance Orbiter was released that showed Phoenix parachuting on to the Martian surface. It was a beautiful image and an impressive moment as one robot watched another begin its adventure. In one blog entry, Phoenix editorializes the event, simply: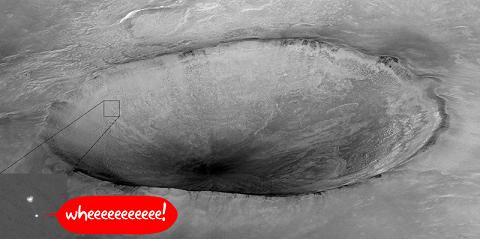 Phoenix's first-person blog entries were intimate (As my mission progressed into late summer, I saw a Martian sunset for the first time.) and, at the end, sad ([T]here isn't much hope that I'll ever contact home again.). It was Phoenix's Twitter account that opened people up to the conceit that a simple NASA robot could have a personality. All credit goes to Veronica McGregor for her impromptu decision to personalize in order to save space in the 140-character tweets.
Phoenix's last words were "Triumph" in binary.