18 August 2010
Prokofiev Piano Sonata No. 4, 2nd movement
Beginning to get comfortable with the end of the first repeat of the A section, eight measures from 25 through 32, ending on the first measure of page 4. Page 3 is below: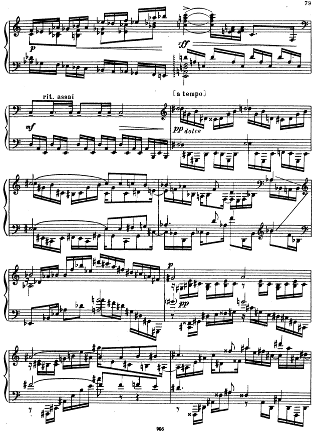 The overall structure (revising what I had in my first post) is:
A A-bridge (measures 1-24)
A B-bridge B (measures 25-53)
A B-bridge BA (measures 54-88)
I still have a tendency to hear the beginning A of the second section as belonging to the first section, but it is repeated note-for-note in the beginning of the third section and so may be more appropriately viewed in this new structure. The eight measures, crossing two pages, are stitched together in a single image below: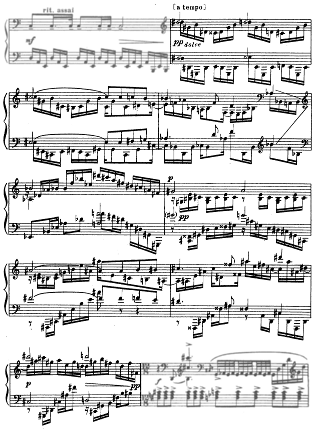 The instances of the A theme as first stated in measures 1-24 were interleaved: successive ones starting before the previous had ended. The instances of the A theme in these eight measures are placed against each other in contrary motion. The first four measures with the bass rising and the soprano falling until they cross; the second four with the upper voice splitting in two from a unison to the final note in measure 32 three octaves apart. Lines first converging and then spreading out. The interleaving in measures 1-24 make me think of different characters entering a scene in a movie or ballet, each talking against the other a la Altman. At measures 25-32, the conversations/dancers are more synchronized.
Technically, these have been the most strenuous and won't be completely comfortable for a while. The B theme will be both a physical respite and an aural one with noticeably less chromaticism.
Other entries categorized in

Music

: