7 July 2004
Review: Harry Potter and the Prisoner of Azkban (4/5)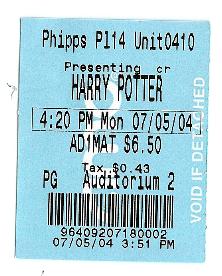 I've now seen all three Harry Potter films--just in the past few days--and I enjoyed the ride quite a bit. I'm in fact looking forward to the next adaptation. The characters are growing up, as are the actors, but as they grow and grow older a shared history keeps them familiar--having seen Azkaban before The Chamber of Secrets, I now finally understand Ron's fear of spiders. Although Harry and Hermione and Ron hold our attention and provide a strong focus, all of the recurring secondary characters and in-jokes (who'll be the next Dark Arts professor?!?) provide a rich backdrop.
The stories feel like Hardy Boys mysteries or a Scooby Doo caper (or at least our memories of all the hijinks and clue gathering of a Scooby Doo caper). The story is cleverly parceled out, and you enjoy the unravelling of the resolution as new knowledge pieces together previous sleight-of-hand clues and exposes the red herrings.
A year or so ago, I re-read A Wrinkle in Time, having finally remembered it from a second grade teacher's weekly chapter readings. And I enjoyed reading from a Cam Jansen mystery that we got Caroline on her last birthday. Creative children's stories can still be engaging and fun.
-> IMDB
Other entries categorized in

Cinema

: