31 March 2005
Review: The Animation Show 2005 (4/5)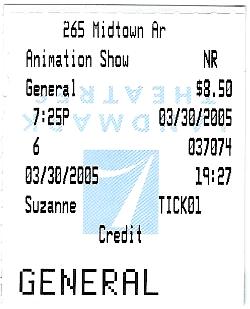 The Animation Show 2005 is a collection of 12 short, animated features. This is the second collection presented by Mike Judge and Don Hertzfeldt. Although the range of styles represented in these would be enough to make this a notable film, the quality and originality in some of the pieces were captivating. It had only a few weak moments. The Web site has details on each. My favorites, alphabetically:
The Meaning of Life - The final work and a perfect ending. Very funny stick-people with unexpected experimentation and range at the end. Almost like 2001 [IMDB] in its breadth.
The Man With No Shadow - Stunning colors and painted technique. Probably worth several viewings to fully understand the fable.
Pan With Us - Drawings photographed in different, live scenes give the impression of animation (a la a flip-book) co-existing in the real world. Difficult to describe, but not nearly as difficult as it must have been to create.
Ward 13 - Lo-fi claymation of an accident victim who wakes up in an evil hospital. Slapstic monsters and chase scenes ensue. An equal achievement to the Wallace and Grommet toy train chase in The Wrong Trousers [IMDB].
When the Day Breaks - Anthropomorphic animals as city-dwellers in moody charcoal and pastel animation. Very thoughtful.
I can't say enough about the depth of a few of these pieces. Read the details for each on the Web site to get a sense of the technical achievements. Go see it to experience the results.
Other entries categorized in

Cinema

: