11 April 2005
Tapas and jazz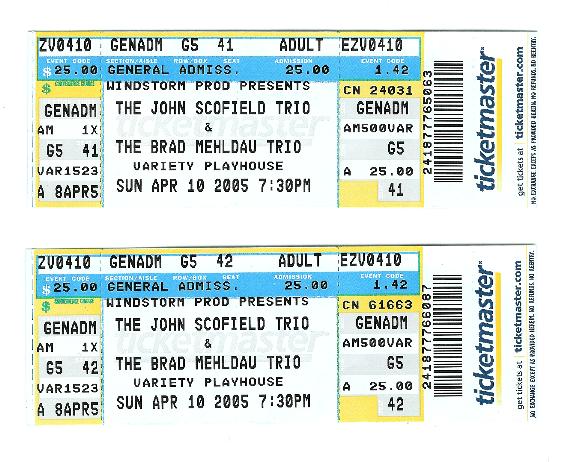 After a late Sunday afternoon jog to leech out the toxins from the previous three days (ouch), Lisa and I headed out for dinner and music in L5P. First off, some tapas at Miro's Garden. This is interesting: there were several problems during dinner and yet I'd still recommend this restaurant. It was nothing too big (dirty menus and only two bottles of white wine in stock), but our waitress--Cat--was quick to do what she could and friendly throughout. Good food and great atmosphere.
And a perfect location if you're going to Variety Playhouse later on. The Brad Meldau Trio opened and were followed by The John Scofield Trio. They're well-paired--with similar styles--but I like piano trios more than guitar trios. Pianist's bias, I guess. Meldau is such an accomplished musician, we were blown away. There were many moments of detailed polyphony that I haven't heard too much in jazz and especially in the cool type of jazz that he plays. Melodies were often shared with the left hand or in the alto and tenor voices as fairly complex rhythmic accompaniment filled out the harmony. They closed with Radiohead's "Everything In It's Right Place."
Scofield's playing was similar and similarly orchestrated--except for the unfortunate jam during the last song that went into Grateful Dead territory. In his solos, he would switch smoothly from melody to harmony to suggest multiple instruments and fill out the trio's sound. I loved how he opened the first song of their set with a choppy solo that switched between 3/4 and 4/4. Even after the bass and drums came in, the listener had several measures of uncertainty about the rhythmic pulse.
At The Euclid Yacht Club afterwards, Lisa spotted Scofield as he came in with a couple of friends. I had nothing too interesting to say, but ended up approaching him so that I could tell him that we enjoyed the show. I asked if he was John Scofield and as he joked around with mock uncertainty I made some vague comment that he must be like that Dick Tracey character that can change his face. I'm a dork.
Other entries categorized in

Music

: