16 August 2005
Hey, lover...
Get out of the house, you shut-in!
OK, so Lisa and I went to the Landmark Midtown Art Cinema (with Lady Crumpet, Scott, and Brian) to see Man with the Screaming Brain introduced by the man with the screaming brain, Bruce Campbell.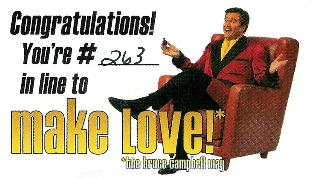 (I hope he's not exhausted when it's my turn.)
He was there to sign his new book Make Love the Bruce Campbell Way [Amazon] and to rant pre-movie about the sorry state of Hollywood movies. I'm not sure that it's in any sorrier a state than it ever was--yes, Dukes of Hazzard and Herbie should be a sign of the apocalypse, especially since Dukes has been topping the box office [RottenTomatoes], but this is the same industry that created the stunning Crash [IMDB]. However, a rant is a rant, and his was pretty good.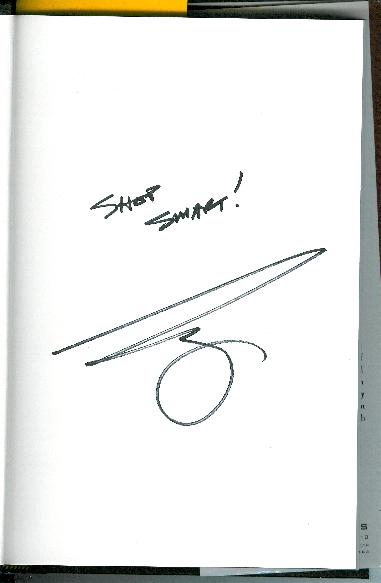 (A secret message!)
The signature process was long, tedius, and disorganized, but probably easier on the signees than the signer. We got there a little after 5 (for me, there were multiple trips because my hibernating, unemployed brain forgot my wallet) and Bruce appeared to be signing until 10:30 or so. Ouch. Perhaps part of the $25 book and $12 movie ticket proceeds (yes, you read that correctly) will buy himself a pair of those weird velcro carpel tunnel hand things. He seemed kinda worn out by the time I was up--and as I held out my hand to shake his, he left it hanging a little longer than was comfortable--but the good advice was worth it!
I also noticed that Bruce, along with Lisa and I (and, oddly, most wild chimps), is left-handed.
After the signing but before the movie, we had tapas at Fuego. This was only our second time there, and although I haven't tried them all, they don't have a bad dish.
Other entries categorized in

Cinema

: