1 October 2006
Vacation (very long)
Back from California.
Instead of a trip to Italy (flights too expensive), Lisa & I went to CA to celebrate her 40th trading Chianti for Zinfandel. The itinerary took us from San Francisco to a few days in Sonoma, then travelling down the PCH making two day stops each in Carmel and Santa Barbara and finally ending up in LA to visit the sister-in-law-in-law and family. Lisa gets all the credit for one of the best-planned vacations yet, and I recommend anyone take the same or similar route. References were the Lonely Planet Napa & Sonoma Wine Country and California Highway 1 guides.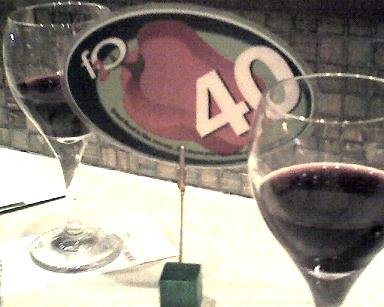 (Our ticket number at Fresh to Order the night before leaving. Coincidence?!?)
[ San Francisco ] [ Sonoma ] [ Carmel ] [ Santa Barbara ] [ Los Angeles ]
San Francisco
On the flight over, I sat next to an FBI agent who was reading Fiasco. He was returning to his home office in San Francisco to check in and attend a friend's wedding in Santa Barbara. We had a nice talk and he gave us a few good recommendations for Carmel. Our rental car was a convertible PT Cruiser. Lisa had hoped for a Mustang, but the luggage and purchased wine would've never fit, so we were lucky.
Fri 22
This was probably the most culinary trip we've ever taken, with excellent meals to be had from start to LA. Our arrival dinner in San Francisco was at 9:45 Friday night at The Slanted Door near The Embarcadero. Expensive, hip, Asian, yet very good. We split appetizers and uncharacteristicly laid low on the wine in order to mitigate the time zone. Breakfast the next morning was at Sears Fine Food. Unless you want to do some heavy-duty breakfast eatin', keep your skinny fucking ass away. Lisa had wanted to go on our last SF trip, but the place was under renovation. We wisely returned by accident after a wrong turn and were not disappointed.
Sonoma
This was our second trip to "wine country." The first was with the brother, sister-in-law, her sister, and her husband eight years back for a few days in Napa. Very fond memories. This trip to Sonoma, we stayed at the Sonoma Valley Inn: free wifi and an inviting pool that we somehow never made time for.
Sat 23
First wine tastings at Sebastiani: their Pinot was, as always, great as were their two dessert wines. Not overly sweet. The Eye of the Swan white pinot noir, a blend of pinot noir and chardonnay, tasted to me like a horrible horrible mistake. The grapes did not blend at all. The servers were friendly and were easy to crack wise with. The first one we had actually lived in Midtown off of Monroe 10 or so years ago. We also saw the preparations for what looked like two weddings on the front grounds. Aww. Gundlach Bundschu had nice wines but we ended up with a less-than-friendly hostess. Although she did have an interesting history: her father worked the winery for 22 years and so she works there now and will probably continue to do so. I can't count how many jobs I've had in my life.
In the evening, we had drinks at the El Dorado Kitchen, a warm modern bar in the El Dorado Hotel off of Sonoma Plaza, and then Lisa's birthday dinner at Girl & the Fig just across the street. The inside is nice, but dining on their patio is a must.
Sun 24
Three wineries close together just east of town: Ravenswood, Buena Vista, and Bartholomew. Ravenswood, of course, is famous for its zinfandels and I definitely fell back in love with them during this visit.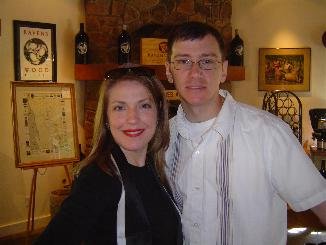 At Buena Vista we tasted and purchased a bottle of their sherry. It, like many wines we ordered, was available only at their winery. Most were worth the purchase; only a few, like Sebastiani's white pinot noir, were better left in limited release. Interestingly, Buena Vista was started by the father of California wines, Agoston Haraszthy. Information on him was to be found in a small museum at the next winery, Bartholomew. Bartholomew was possibly the only one we visited that was completely organic and their wines were 100% varietals with no blends. We were fortunate enough to be pointed to lunch at Cafe Citti in Glen Ellen by our server at Ravenswood. Returning back in town, we finished up the afternoon at the Mayo Family Winery. There, a part-time jazz musician poured and spun tales of wine and music with some Coltrane in the background. The extended stay there knocked us out for the rest of the afternoon. After a "rest" back at the hotel, we went to dinner at Maya. Beware the stuffed jalepenos! They were both the most flavorful and hottest peppers I've ever had. A rare combination. Again, an outstanding meal.
Mon 25
Get up, get out, and we wound our way on back roads to begin our trip on Highway 1. Down through woods and coast and small towns and finally back through San Francisco with a scenic lunch at Cliff House (emphasis on scenery and not lunch). Continue on to our next major stop...
Carmel
Our hotel was a slight step down (especially since we later found out from one of the locals at a bar that it was the sight of a prostitution ring bust), but what it lacked in charm it made up for in free wifi. Dinner that evening at Grasing's ('gray-zings). I love the freedom of gourmet food and casual dining in these towns.
Tue 26
No wineries! We must pack all of our Carmel-related-stuff in today and save the wineries for our trip out on Wednesday. We started with the Monterey Aquarium, which I have finally come to the conclusion is slightly better than the Georgia Aquarium, fresh in my mind from a recent visit. They had: a diver feeding fish and sharks and monkey-faced eels, a mock wetlands room with sand and reeds and several species of birds, ample plaques with information on the oddities that you're viewing. For me, they really gained points for the extra information. Lunch at Sly McFly's (fried seafood, meatball sammich), fresh-made fudge at a local candy shop, then over to the 17-mile drive to see rich houses around the Pebble Beach Golf Course (meh) and various vistas and fauna on the coast.
Cheese and wine was obtained at The Cheese Shop in town, then we relaxed at the hotel with some internet jazz and a Carmel sunset. Dinner began with drinks at The Carmel Mission Inn, Clint Eastwood's joint, where we enjoyed the 70's radio serenade at the piano bar. As the pianist was noodling around in between songs, me and a local declared in unison "Alan Parsons Project!" (specifically, the opening chord to "I Wouldn't Want to Be Like You"). I'm sure all present were impressed. He then informed us of the illicit history of our hotel.
We went to dinner at Forge in the Forest (both this and the aquarium were recommended by my FBI flight neighbor). Unfortunately, they close oddly early and much of our meal was rushed by a waiter who felt that punctuality at closing time was of utmost importance. The food was only OK but the patio atmosphere was perfect for the weather, which was never not-perfect so that goes without saying. Dinner at The Carmel Mission Inn would have been much better, but I'd still lightly recommend Forge in the Forest. Lightly. We ended the evening on the strip in Monterey for drinks at a local bar where Lisa mistook "Lad's" for "Ladies," from which we overheard a mocking of her as clever as you'd guess any frat-boy could come up with. I was entertained.
Wed 27
Three excellent wineries on our way out of town. First, Chateau Julien. Although friends had a bad experience, the girl here was very friendly despite having a code in her dose. This was a week of surprising wines for me. I've been off of Zinfandels, Merlots, and Chardonnays for a while yet at many of the wineries these ended up being my favorites. At CJ, it ended up being the Chardonnays. Then San Saba where we spoke with a lady who often visits her mother in Atlanta. She insisted that Atlanta traffic is as bad as LA traffic, but we learned differently. More purchases, this time two unoaked Chardonnays—which had much less, well, oak flavor for lack of a thesaurus. Finally, Bernardus where we enjoyed two blends consisting mostly of Cabernet that they called their Marinas.
On our way to Santa Barbara, we intended to visit Hearst Castle (of rosebud fame) but needed to reserve the tour ahead of time and they were sold out. Their free museum hinted at the opulence and taste of the place. No mention was made of the SLA.
Santa Barbara
Checked in to the Brisas del Mar hotel in Santa Barbara and relaxed a little before going to dinner at Sage & Onion (recommended in our Lonely Planet guide). This, along with the next evening's meal at Bouchon, rated as some of the best food of the trip.
Thu 28
Similar to Carmel, the wineries in Santa Barbara take you out of town. We drove around 30 minutes to get to Los Olivos (almost running out of gas on the way). All of the tasting rooms are in a short block or two down the main street that basically is Los Olivos—one bragging prominently "as NOT seen in Sideways." We visited Consilience (the hostess had worked as a paramedic in New Orleans), Longoria Wines, The Tasting Room (where the host, although a character, had some disparaging remarks about Atlanta), and finally Andrew Murray Vineyards. All-in-all an excellent trip. Then to the neighboring town of Solvang to get me some shoes:
And check out a few more wineries. First Lucas & Lewellen, then their sister shop Mandolina where we met some guys who seemed to be Big Shots of some sort. Wine tastings make people chatty. We got back in town and had a light lunch at a recommended dive called La Super-Rica Taqueria where I was quite restive in my new shoes:
Dos Relaxxis! Then a stop at the beach at West Beach to watch the birds and the surf before heading back to the hotel for a quick dip in the pool and hot tub—shamefully the only time we put on swim suits the whole trip. And no, there were no nude beaches. The hot tub cured the pain in my gimpy leg that began on the flight, so I had a short reprieve from my old man syndrome. Shower and dressed to have our next-to-final meal at Bouchon (lamb and venison, both outstanding with a local pinot noir) and our next-to-final drinks out at one of the many and active college bars along the main street in Santa Barbara.
Fri 29
Depression surprisingly doesn't set in on our last real day—with our flight the next morning. After shipping two boxes of wine (a small fraction of the many that we had shipped directly) and one box filled with all of the free glasses from the wineries we visited, we made a quick trip up the tower of the historic courthouse and then had a couple of appetizers at the highly recommended Bogart's Cafe where Nicole was in the weeds but all of the old books and light opera kept us entertained.
Los Angeles
Our final trip down the PCH to LA. More surfers than you can shake a surfing stick at. Experience the thrill of LA traffic and after pulling in to the wrong hotel ("oh, we're sorry, we're supposed to be at the Radisson, not the Renaissance...") we had time to check in, clean up, and text my sister-in-law-in-law for directions to their place. Over the largest take-out burrito I've ever seen (think alien pod), we got caught up with the kids and the life back in LA after a two-year stint in NYC (performing in Dirty Rotten Scoundrels) and the massive renovations to their house which made me jealous to live in a bungalow. We talked some geeky talk about bootleg internet radio and I got to see some scenes from DRS that Greg had recorded (maybe see some short, unsanctioned bootlegs on YouTube if they don't get pulled). Along with this little gem:
Here, Greg does is best Crazy Anti-Semite impersonation for an upcoming movie (I'm probably breaking some sort of copyright by posting this). The most uncomfortable part was when he called me Sugartits. On the way back to the hotel that night, although in pain from the freakisly large burrito, we stopped at an In & Out Burger along with the rest of the population of LA:
The trip was only slightly marred by a very post-40 pain in my left leg--appearing first on the plane and then aggravated by a jog in Sonoma to the point that I had to hobble most of the trip. I may try to avoid a doctor's visit, but it would be very unwise. The other mishap involved several days of phone calls and internet connections with the office over unresolved issues. It was one of the most painful times with work in recent memory, and only Monday will reveal what is to come.
Now comes the wait for all of the wine that we ordered. Boxes should start appearing Wednesday or so, so I have until then to purchase more wine shelves. Many more.