21 July 2008
Movies and weekend
WALL-E [ IMDB | Rotten Tomatoes ] (5/5). Went to see Wanted and ended up at WALL-E. We were planning on going to see it anyway, but really didn't expect to be so taken in by the sweet-but-not-sappy story. A few times during the movie I had somethinginmyeye. The dialog-free opening was silent film genius and ultimately more beautiful than the spaceship sequence in the second half. With no people, the Earth scenes held to their own almost-real reality. The people we were introduced to in space were depicted more cartoonishly. And really, the movie is all about WALL-E and EVE's relationship; the people just get in the way. Definitely a movie to purchase.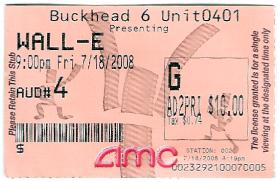 Wanted [ IMDB | Rotten Tomatoes ] (4/5). Crazy shooting sexy Jolie with the loom that tells the future and secret societies attacking each other. The first 20-30 minutes had a perfect mix of humor a la Office Space with the protagonist schlub narrating his hate for cubicle hell (I hear ya, brother). Second third is his training as an assasin (we need a montage!), which had its moments. Finally there's the twist (not that twisty) and a nice, non-Hollywood resolution. Overall, it was like The Matrix with a sense of humor.
Friday night dinner at Six Feet Under in Midtown West. Fried fish gets a +1, valet parking gets a -1, so it was a wash. Saturday was dinner and drinks at Cypress Street Pint and Plate until 3 AM. Sunday was a late lunch at Noche then late night pizza delivery. Weekend's not a weekend unless you overindulge.
Best part of last week was the birthday dinner at Straits where we saw the owner, Ludacris and had a great meal, plus, Lisa gave me a Garmin GPS unit for my car. I can't drive anywhere now without having it show where I'm at.