20 June 2012
Movie week, days 1, 2, and 3
Cinema Paradiso [ 5/5 | IMDB | Rotten Tomatoes ]
Saturday morning at Lefont in Sandy Springs, Lisa discovered that they show classic and newer independents approximately every other Saturday. Lefont has a long and storied history in Atlanta. BITD, we would go to flix at Lefont Garden Hills on Peachtree in Buckhead. And I didn't know they used to run Tara and even The Plaza on Ponce. Anyways, outstanding film from 1988. Sweet story of an Italian boy growing up around a theater's films and patrons.
Moonrise Kingdom [ 5/5 | IMDB | Rotten Tomatoes ]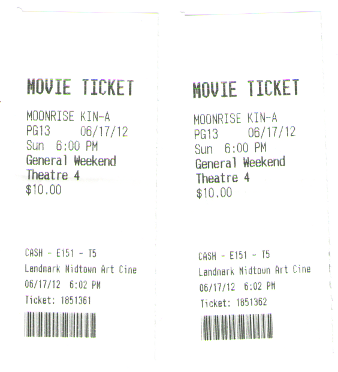 Sunday at Landmark. The kids' performances were the typically quirky-yet-sincere that Wes Anderson seems to be able to pull off. A wealth of very short, perfect scenes. Nice on their own and building the whole of the film.
This has put me in the mood for more Wes Anderson, so I've been digging around for a legitimate stream of The Fantastic Mr. Fox to watch later in the week. Coincidentally, ABC Family broadcast it this weekend after my search had begun.
Shawshank Redemption [ 5/5 | IMDB | Rotten Tomatoes ]
Monday. I've been holding off to watch my DVD of this and avoiding spoilers and any TV-cuts (another coincidence, broadcast this weekend). Am I the last person in the world to see this film? Probably.