8 August 2005
Where was I?
Ended the contract a-day-early-but-two-weeks-late last Thursday then tied one on with The Wife and The Brother. First dinner at Agave Oops: it was actually Inman Park Patio. Agave was a 45-minute wait. Bah. with Lisa (had a nice, grapefruity Geyser Peak Sauvignon Blanc) then we headed to Eno for drinks with Bob, and finally home to argue about cinema and finish off a couple of our cheaper bottles. Hey, I'm unemployed now, so the good stuff has to be saved.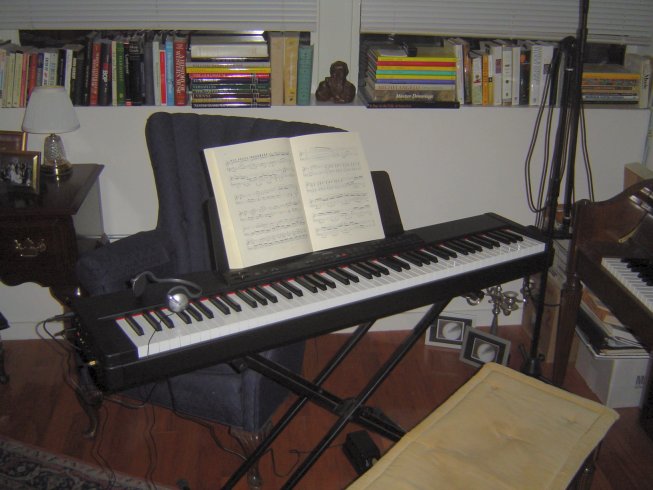 Got to try out my new keyboard that came in Thursday morning (music is the Beethoven Piano Sonata I had worked on earlier in the year). I usually play somewhat clumsily on a new keyboard for some reason or another but first impressions with the P90 were comfortable. The keys feel like they are sticking to my fingers at times, but that may resolve itself after some playing buffs a little texture into the plastic. I'm not sure. The action is definitely different from a piano, but I'm still trying to figure out how. I think that there's somehow a more-or-different amount of force springing the keys back up after attack. And I'm possibly missing the physical feedback of vibrating strings felt through the keys--and felt so painfully on an untuned piano. From initial impressions, I'm very happy.
Weekend was up in Tullahoma, TN for a wedding shower for Mason and Danice. Good to catch up with both Mason's UT friends and friends from Atlanta whom, from every fault of my own, I don't see unless there's some big todo out of town.