1 October 2005
Where was I?
Working, that's where.
And, on Tuesday, I was at 10 Degrees South enjoying an excellent meal with friends and donating 25% to Katrina relief to boot. Great bar, great dining area, and great service--all very comfortable and semi-casual. I had the stuffed grape leaves and ostrich medallions, the latter paired perfectly with a couple of South African Pinotages. Shut up and go now!
Work has really not consumed my time too much--contract, 40-hour/week: sweet. Nice office and good work. It does however eat into my home programming, so I've been playing piano more. Got the Schumann and Stravinsky scores I had ordered just before starting work and have been looking at "Spring Round Dance" from The Rite of Spring and "Aufschwung" from Fantasiestuecke. The Stravinsky piece has chords I could've stolen wholesale. Read interviews from any of the progressive rock musicians I grew up listening to and the influence becomes obvious. The first excerpt is from The Rite of Spring, the second is from my short instrumental "Oscillations":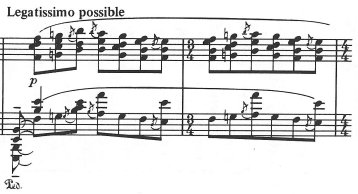 I have much to learn. Later, Stravinsky uses parallel diminished chords with an added diminished octave against an otherwise very tonal melody. The result sounds less conventional than you'd expect, but context within the piece as a whole is important.