13 November 2005
Where was I?
Dinner Friday night at Avra. Greek food that was just OK. Appetizers were octopus and dolmades, then I made the unusual choice of tomato and pepper stuffed with rice and beef (I usually go the lamb route, or as it was advertised at a restaurant on Mykonos: lamp) and an equally unusual choice of Metaxa as a digestif. Later, we each had a flight of four Barolos at Eno.
Saturday was jogging, practice, and coding, while Lisa was at Milltown Arms freaking out over LSU's narrow overtime win. Later was a house party OTP to socialize and watch the DJ battles. Grr! We only watched the first set because we're slackers.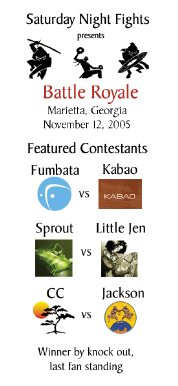 I should get my four-month-late emission's test done today, but won't.