26 November 2007
Where was I?
Thanksgiving Eve drinks at Northside Tavern where I saw the funniest/most offensive graffiti joke about Cabbagetown, crack whores, and the relative cleanliness of the NST men's bathroom, in between watching episodes of Jerry Springer and Maury Povich. After that, an early-ish dinner at Marlow's and an early evening home.
Thanksgiving was just Lisa and me and my parent here at Peachtree Lofts Central. I cooked up the Rosemary and Thyme Roasted Cornish Game Hens (aka "Midtown yardbird") and Lisa slaved over garlic mashed potatoes, green beans and prosciutto, and the best cornbread chorizo and mushroom stuffing ever. Everything turned out surprisingly well.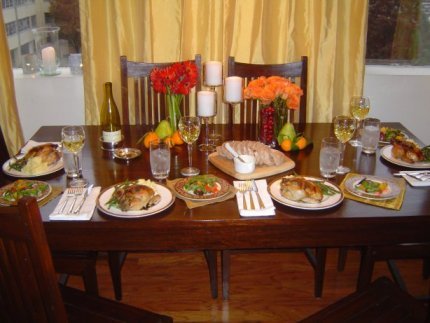 Friday, Lisa suffered through an LSU loss after three overtimes, then we went to the ASO to watch The Wizard of Oz with full orchestral accompaniment. They need to do this with more movies (although, I'm not sure which would benefit most). It may have been The Live Affect, but the WoO soundtrack seemed to have so many more ideas than the orchestral soundtracks I hear today. I think the contrast is similar to, say, a Mahler or Wagner compared to a Copland or Diamond. Not necessarily better.
Sat nite was drinks and chicanery over at Alicia and Dan's then late nite appetizers at Milltown Arms (you know, because we'd been starving ourselves most of the weekend...).
Lazy Sunday in front of the TV catching up with Heroes and Dexter.