29 September 2008
Where was I?
Vacation in Miami and Key West last week!
Flight out Friday night to Miami. After the luggage, rental car, and check-in, we hit Ocean Dr. and camped out on the patio of a little place called The News Cafe at ~midnight. Drinks and tapas until 2 or 3 whilst people-watching.
Saturday we had to purchase beach gear that we didn't want to pack and then head to the beach! I had a horrible meal at Front Porch Cafe (Lisa's was good though), then off to find me a beach book at Books and Books on Lincoln (awesome book store! reminded me of Sundog Books in Seaside, FL), I ended up with the enjoyable World War Z. ZOMBIES! Beach was nice and hot. Toplessness was enjoyed as was the warm ocean water. Realized that with just the two of us, only one could go swimming at a time. :(
Evening was one of the best meals at one of the best restaurants I've ever been to in my life: Wish Restaurant at The Hotel. Glowing drinks at the rooftop bar with a beatiful view of the city followed by a meal on the first floor patio. We sat at a two-top next to a circular fountain surrounded by larger tables. Those were shaded by large umbrellas and the whole patio was surrounded by a garden wall of flowers and vines. The sounds of the fountain in the small space was perfect. The waitress was a songwriter that had just moved down from NY. Neat!
The next morning was checkout (+ a we-lost-your-car scare) and lunch at Versaille in Little Havana on the way out of town. I had some nice, strong Cuban coffee after and we shared some sort of sweet (Dolce Leche?) dessert. Road trip to Key West!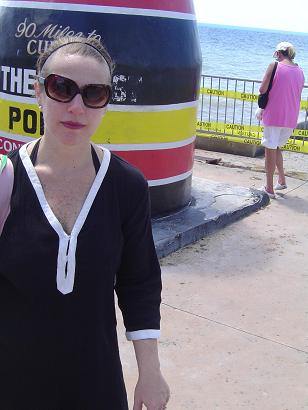 (Lisa at the Southernmost point in the US.)
Key West is a mishmash of bars and restaurants and walkin' around. Everyday, sometimes multiple times a day, we refreshed ourselves with frozen drinks at The Flying Monkey Saloon. Sqeeze bottle with cheap refills FTW.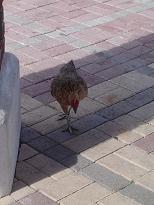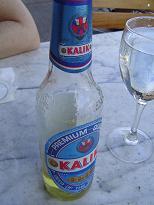 (Roosters abound in Key West! Hog's Breath at said saloon and Kalik at our last lunch in Miami. Not show: a bottle of Quilmes enjoyed on the drive in.)
Monday morning we went for a jog. It was my first real jog since I found out about my herniated disc almost two years ago. It felt sooooo good, and it was fun jogging with Lisa, but that combined with a half day of walking the next day put me in somewhat constant pain for the next couple of days. I still may try a 10k sometime and just accept that I'll need a week to rehabilitate.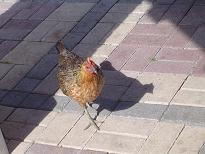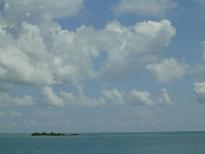 (See, I told you. And some clouds on the drive back to Miami.)
Weather was perfect every day except Lisa's b-day on Tuesday. We spent that day walking around the city (*ouch*), saw the six-toed-cats at the Hemmingway house, and made a failed attempt to hit the beach when we thought the rain had stopped. We were wrong. I'd never read any Hemmingway, so when Lisa spotted a German translation of Der Alte Mann und das Meer in the gift shoppe, I picked it up along with the English version. Sentences are short and readable, so it will be a perfect exercise. B-day dinner was at Cafe Marquesa. Excellent food with an atmosphere inside similar to La Tavola in the Highlands.
(I was pitching him a story about kids in a rock band trying to stop an evil genius from taking over the world. He wasn't buying it...)
Final day was delicious breakfast at Croissants De France (logo: gecko eating a croissant), souveniers of coffee and coffee mug at Cuba Cuba, then a slice of key lime pie and final frozen drinks for the road back to Miami. In Miami we had some time, so we ended where it all began with drinks at The News Cafe. Ahh.
Lisa just reminded me that I forgot about our parasailing trip. We went on Monday in Key West and had a blast! Good group of ~10 people on the boat plus the two crazy guides from South Africa. Gettin' ready: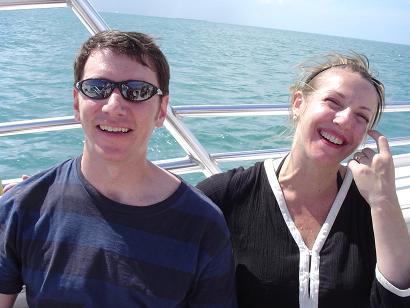 Goin' up:
Smilin' at the Earth: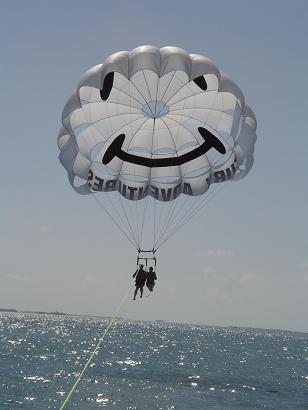 We got pretty high up and saw (1) a sea turtle surface and dive and (2) a porpoise or some-such animal swimming around. My fear of heights kicked in and it was really fun.