1 February 2012
Where was I?
New year and new ASO concerts. January was Beethoven's Emperor and Elgar's Symphony No. 1 and then two weeks later the Eroica and Britten's Violin Concerto. I was never a fan of the English composers, but both the Elgar with its clean Romanticism and the Britten with its mid-century tonalism were enjoyable. (ASO has really cleaned up their calendar! I'd always struggled to find notes on performances months after-the-fact. Their old calendar was barely usable, but the new layout is very nicely done.) Tomorrow night is more Beethoven but this time with a French and a Czech.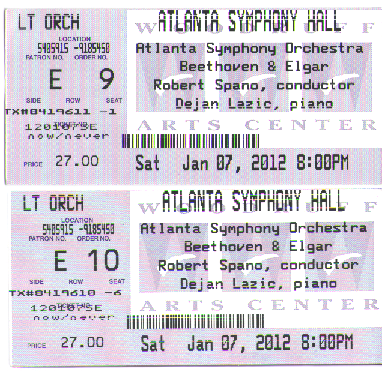 Then, on Jan 22nd, we went to a Music on the Hill (MotH) concert at the Northside Drive Baptist Church. Alexei Romanenko on Cello and Christine Yoshikawa on Piano played some moderns:
Arvo Pärt - Spiegel im Spiegel
Schnittke - Sonata No. 1 for Cello and Piano
Fauré - Aprés une Rêve
(intermission)
Schnittke - Suite in the Old Style for Cello & Piano
Stravinsky - Suite Italienne
The pieces were programmed nicely with the meditative Part opening to a very, very fiery Schnittke (the whole reason I was there) and closing the first half with a syrupy few minutes of Faure. The two pieces in the second half--though I liked less--were two modern homages to the late Baroque. The Schnittke piece was, sadly, just a competent student work. MotH has some great Sunday recitals coming up too.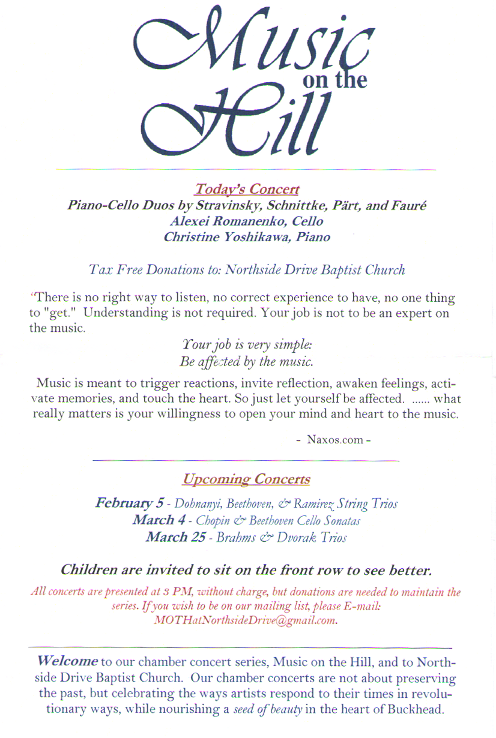 Monday we celebrated our 13th anniversary ("textiles"?!) at La Pietra Cucina. We were there years ago for Alicia's b-day, but they've since re-designed and we really enjoyed it. Fun fact: when you enter you're greeted by one of two signed Steinway wood-finished baby grands that the owner has.
This weekend is our 3rd annual (sortof) weekend in the mountains with friends.