21 February 2008
Where was I?
Last Friday dinner at the Corner Tavern in Little Five Points then The Howlies et al. at The Star Bar. Saturday dinner at Paul's in Buckhead. I give it a medium recommendation: good food, service, and atmosphere, but nothing wow. We had later reservations and so got a table in the main area; I'd like to go back and see what the upstairs looks like.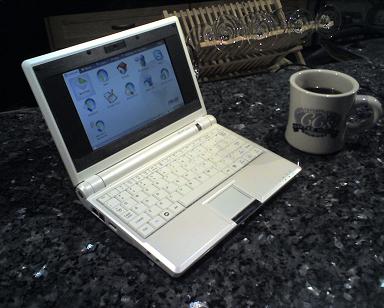 Tuesday I received my Asus EEE 4G laptop. I had been thinking about getting the Nokia N800 for travel, wifi hotspots, and to use as a portable internet radio machine but then ran across recommendations for the Asus whilst browsing Amazon. The Asus is less handheld but more powerful, so I went with it. Specs: 2 lbs, 7-inch screen, 802.11b/g, 512 MB memory, 4 GB flash drive, 3 USB ports, web cam, Linux Xandros with KDE, Firefox, OpenOffice, etc. I've heard that you can put Java and Eclipse on there, but I'll have to get over my Linux-ignorance first. First impressions are positive. It's fast, typing is easy enough (my mitts are not beefy), and the screen is bright and roomy enough. We'll see what happens with Eclipse...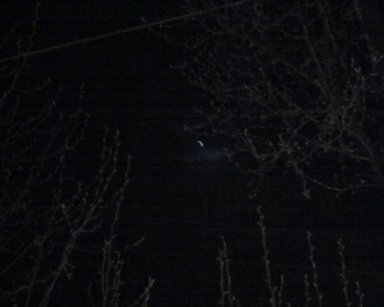 Lunar eclipse dinner and drinks at Eclipse di Sol (wha-huh?). We had a perfect view of the event from the patio, and the clouds cleared out completely around halfway through. That little sliver in the photo above is the moon taken from my crappy camera phone. First, animated fun at Landmark with The Academy Award Nominated Animated Short Films. Best was Peter and the Wolf [ Wikipedia | IMDB ], an inventive telling of the standard story and without the narration. Peter's duck and bird friends were a-dorable and this version has a noble twist at the end. Descriptions of all five shorts below stolen from the Landmark web site:
Don't miss this rare opportunity to see all 5 of the short films nominated for Best Animated Short at the 2007 Academy Awards. Program includes: I Met the Walrus (Canada), an animated documentary about 14-year-old Jerry Levitan, who snuck into John Lennon's hotel room in 1969 and persuaded him to do an interview; Madame Tutli-Putli (Canada), in which a timid woman boards a mysterious night train and has a series of frightening experiences; Meme Les Pigeons Vont Au Paradis (Even Pigeons Go To Heaven) (France), about a priest who tries to sell an old man a machine that he promises will transport him to heaven; Moya Lyubov (My Love) (Russia), in which a teenage boy in search of love in 19th century Russia is drawn to two very different women; and Peter & The Wolf (UK & Poland), Prokofiev's classical music drama of a young boy and his animal friends who face a hungry wolf.