13 October 2008
Where was I?
Friday was all-Tchaikovsky at the ASO. The first of a block of eight concerts we got for the season. I was never a big fan of Pyotr, he always seemed the prissy Romantic with flowery melodies, but I'm warming up to him. Francesca da Rimini (enough drama to fill a 2-hour movie!), Violin Concerto in D (soloist Robert McDuffie, seen years ago in a recital where he played a violin+piano arrangement of Glass's Violin Concerto), and Symphony No. 1, "Winter Daydreams". After the Violin Concerto, Bobby McD brought out one of his students for a duet (Ravel piece for violin and cello). Excellent all around but Not Enough Seats Filled! That's bad for the Symphony, but good for me since maybe Lisa&I can take my Mom.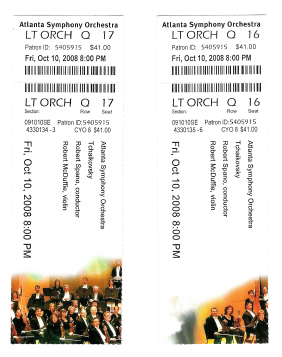 Caturday was an afternoon picnic lunch w/ Lisa and my Mom. Evening, Lisa went to watch the sad, sad LSU game and drown her liver in gin. I got caught up on piano and met her at The Vortex at midnight. We got home somehow.
Sunday was la-zy. Caught up on some TiVo (Supernatural!) and then went to see Quarantine (3/5) at Atlantic Station [ IMDB | Rotten Tomatoes ]. Zombie/Blair Witch hybrid. What gorey, nerve-wracking fun! A few missteps and the people who made the poster and ads can die in fucking hell for spoiling the ending, but it was still a blast with the crowd ewwwing and clapping as bones popped out of legs and people punched the rabid hordes. Afterwards was Cypress Street Pint and Plate with our New Favorite Bartender Lindsay the Philosophy Major. Hipster music, watched Planet Earth on TV (ocean bottom then mountains?), surfed for images of cute baby hedgehogs, and had arguments about race and homosexuality. What a fun bar. I am so glad I live in Midtown!
Lisa got ill in the middle of the night with an unspecified sickness. Hopefully not zombie rabies. She assured me that I haven't planted a seed in her. No need for me to skip town. Yet.