17 January 2010
Xmas in Vegas
Lisa & I spent Xmas in Vegas from December 23rd to 27th. I should have documented the fun sooner.
Late flight Wednesday and check in at The Venetian with a late dinner at the Grand Lux Cafe where we got to scope out the gambling crowd. Great deal on the hotel made the four night stay cost about the same as the flight.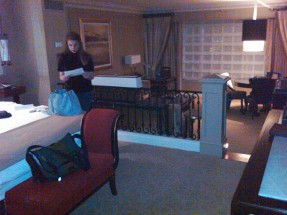 Thursday we rented a car and headed to Red Rock Canyon for hiking. All cars were taken except for a 15-person van, a Corvette, and a Nissan 350Z. Rental for the day cost about the same as the flight (slight exaggeration) so we decided on the 350Z. Sweet ride. RRC was around 18 miles outside of Las Vegas. Driving out of town was odd because there's no transition from city-to-non-city, but rather just an abrupt end to all buildings and you're immediately in the dessert. Once at the park, we took the scenic drive that looped through the region and stopped at several trails. There were many other visitors, but It wasn't too crowded. What I noticed most about the rock cliffs was that the viewer lost any sense of scale because of the vast patterns on the sandstone. What looked only 10s of meters away dropped much further in the distance as soon as we saw the dots of rock climbers. Brave, brave, rock climbers. Or, as soon as we saw the tiny dots of our shadow on the rocks below: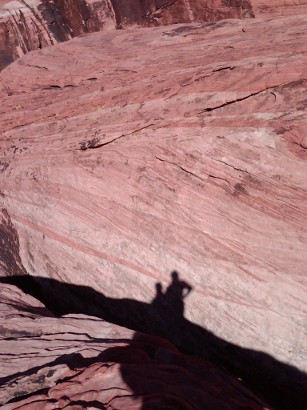 Here we are frolicking: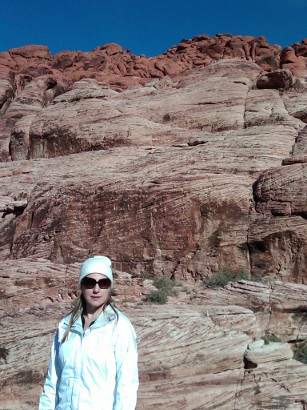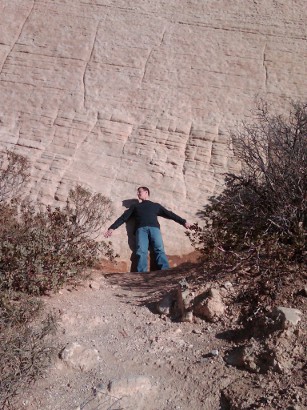 After the hike, we drove back into town and down to a casino in south Vegas to watch Avatar in 3D IMAX [ 3/5 | IMDB | Rotten Tomatoes ]. If you're planning on seeing this, definitely go the 3D route. It really is a beautiful film even if most of the characters, with the exception of the male lead, are lazily written, and the themes are a bit obvious. Flaws aside, it was definitely a cinema experience. I remember, however, that after the expansive beauty of Red Rock Canyon, I wasn't as wowed as many reviewers or at all "let down" by the bleakness of the real world in comparison. Although I can imagine how someone living in Detroit might feel otherwise.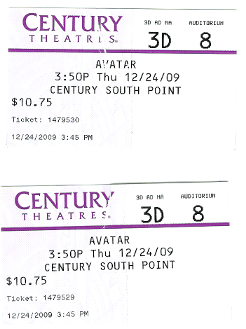 Evening was dinner at Alize at the Top of the Palms. Beautiful view and a perfect meal.
Friday started with brunch at Payard Bistro at Caesar's Palace. Lisa had plans to go to the buffet at the Bellagio, but the line in was at least 100-people long (I don't think I'm exaggerating) and it looked rather kid-infested. Blech. Plan B a nice restaurant at Bellagio, but that would have been a 2 hour wait so I searched via Google Maps on my phone and found Payard's. Highly recommended! Small, very French, and the perfect quiet choice for Xmas brunch.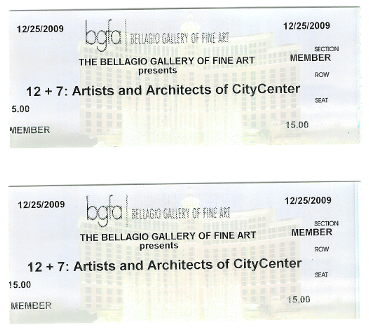 The bulk of the day was various shenanigans walking up and down the strip with what seemed like the entirety of the population of China, visiting the art gallery at the Bellagio, and taking the monorail to the new Las Vegas CityCenter. Along with Asians, the strip was filled with cast-off trading-card-sized leaflets of naked women on them. They stayed in Vegas. Dinner was at Enoteca San Marco back home at The Venetian. The restaurant was in the winding, two-story, indoor mall that had a faux-sky ceiling (see below) so I was expecting only average food but it was very good. They had an octopus, celery, and potato salad (weird, I know) that was outstanding.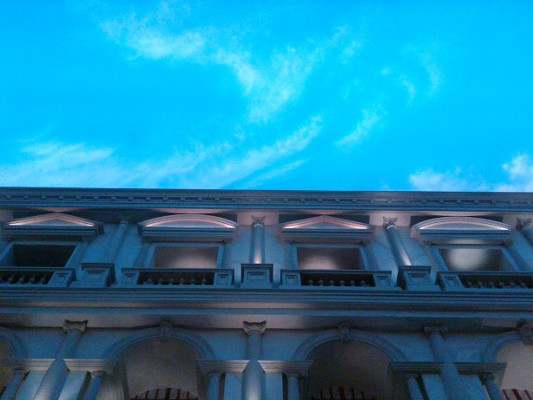 Saturday we started with brunch at Bouchon in The Venetian. It was another French locale and an excellent meal. After, we were again in need of a rental car to get to Hoover Dam (having missed out on a group tour). The hotel Hertz Lady had, again, those same three cars and nothing else so we went online and rented one from a place at the airport. Taxi + rental fee (for a more humble Nissan Versa) was still less than what the 350Z would have cost.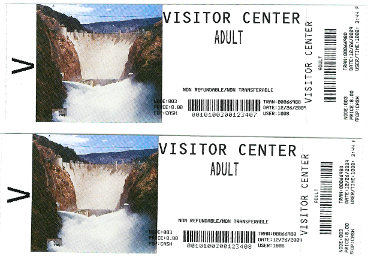 It was a gray day going to see a megalithic, gray structure but still impressive. We wandered a little in the museum. Most interesting construction fact: they had to dig four tunnels through the canyon in order to divert the river while the dam was being constructed. Work on the tunnels took as much effort as constructing the dam itself!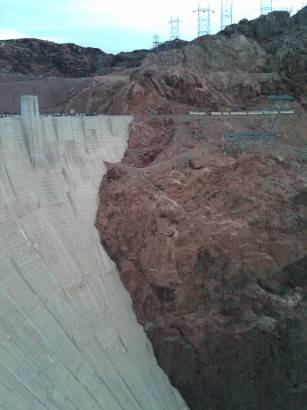 Return and dress up for an evening show of Zumanity at New York New York. It was a burlesque version of a Cirque du Soleil show with a 50s-style couple hosting and, along with twin corpulent stippers, playfully pestering members of the audience. There wasn't a bad seat in the theater, but we were sooo happy we weren't up front! Dinner after at Serrano in ARIA at CityCenter for Spanish tapas. We also met our waiter from Payard and Lisa discovered her New Favorite Drink: a Spanish dessert wine called Don PX Pedro Ximenez.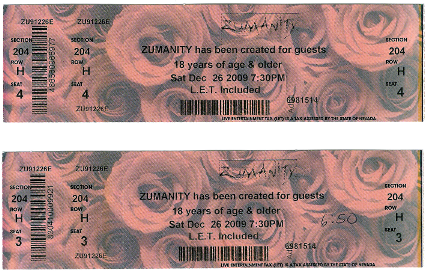 Short day Sunday wandering around one last time looking for gifts for the nieces but we couldn't agree on items that were both Las Vegassy and non-cheesey so ended up with nothing. Rats. Lazy flight home and another week of relaxing!
The map from our Red Rock Canyon visitor guide newspaper: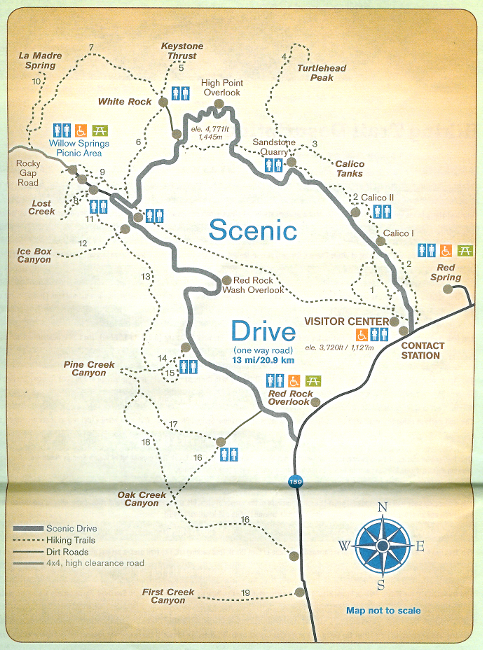 The chuckwalla we were promised but did not get to see: