21 November 2010
Where was I?
DJ Shadow at The Loft on the 9th. Great show, with Pigeon John opening: an hilariously entertaining rapper working with two female rappers/DJs. Finished the night grabbing a $16 print of the Endroducing cover:
Zip line tour last Saturday outside Lula, GA with Lisa, Bob, and Sarah. Weather was cold and clear and the treetops are--let me tell you-- quite high up there. Recommended (even though they don't allow you to wear Vibrams and I had to do an emergency $15 shoe purchase at a nearby Wal-Mart)!
On Friday, went to see Venice Baroque Orchestra and Robert McDuffie at Emory perform Vivaldi's Four Seasons violin concertos and Philip Glass's 2nd Violin Concerto. I'd never seen the Vivaldi live and they put on such a completely natural performance. The musicians--this was the last stop on their tour--were joking and chatting with each other during the performance. McDuffie, the lutist, and the first cello had an especially close relationship as each was highlighted at various points. Second on the program was the Glass piece. We'd seen McDuffie perform an arrangement of Glass's 1st Violin Concerto years ago at Clayton State College IIRC. Second movement of Friday's piece, andante, was absolutely beautiful. The musicians ended the piece with a fierce accelerando. Recording purchased in the lobby.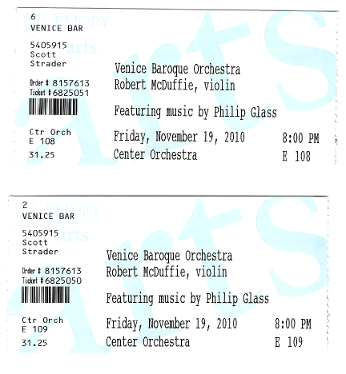 Saturday was Matt's b-day at Imperial Fez. My first time there and we'll definitely have to go back. The belly dancers were friendly and aren't too intrusive if you just want to sit and eat. Music can be a little loud though. Spoke with the chef and Lisa scored us some of the hot hot sauce. Great food and, later in the evening, groovy chill Middle Eastern music. I learned: Moroccans speak Arabic, shoes are removed before entering the dining area, and coffee-infused tequila is an after-dinner drink.