13 May 2006
Where was I?
Last Friday: neighborhood Cinco de Mayo party OTP at Tedra and Bill's with some other ITP friends. Lisa came in second in the limbo contest (on Cinco de Mayo?!?) to the less top-heavy Shelby. I should have escaped with a giant, eight-foot-tall inflatable cactus sticking out my sun roof but can see now that it might have brought undo attention on the drive home from unwanted persons.
Saturday was the Kentucky Derby party at Mary and Andrew's. Last year, Scott took home the purse; this year, LC and I raked it in. I can't speak for her, but I spent my winnings on My Pretty Pony collectibles.
Tuesday, we went to see Sophie Scholl at Landmark. Simple and moving. I compare it in emotional impact to The Constant Gardener but less artfully filmed. Her arrest occurs relatively quickly, after a few scenes familiarizing us with the main characters and the society they live in, and is followed by a series of interrogations that make up the bulk of the film. The interrogations become a battle of philosophies between her and an investigator who is impassioned yet ultimately reluctant to sentence an intelligent and sincere young lady. Nazis are an easy target, but this film is more about an inspiring act of bravery. You'll be in tears for the last 30 minutes.
Thursday we had a new HVAC unit installed in our condo. Our old one, though only 9 years old, was installed poorly and died an untimely death. After an estimate of $4100 from CoolRay we got a second estimate of $6500, and the choice was simple. The installation took all day, but I got to go up on the roof for the first time. What a view! Although we pay approximately $1,000,000-a-month in association dues, they say it's too expensive to build a deck up there. Jackasses. Anyway, we now have a fancy new digital thermostat that keeps us below the 80-85 we've become accustomed to.
That night was The Fantasticks at Shakespeare Tavern for Alicia's b-day. I knew very little about the show except that the sheet music was ever present in the music room in high school. Because of that, I expected a silly little musical but was very very pleasantly corrected. The play is smart and the theater's directing keeps your attention. The female lead knocks everyone else off stage with her resonant coloratura flourishes--with such skill in a relatively small theater, one viewing will make you realize what jackasses those American Idol contestants are. Social criticism aside, this was such an enjoyable show I've been recommending it to anyone. It's playing through June 25th.
We got home that night--after seeing Alicia's playful new dog Jesco and having a few drinks at Milltown Arms--and drunkenly watched the season finale to The Office. We usually don't delete drunk viewings of shows, just-in-case, but that rule was forgotten and now we're downloading it for $1.99 from iTunes. Anyone know how to de-encrypt iTunes videos?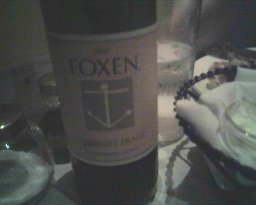 Friday was the ASO and a wonderful and varied program of Borodin (Overture to Prince Igor, clip), Berg (Violin Concerto, with Cecylia Arzewski, clip), Schubert (Symphony #8), and Liszt (Les Preludes, clip). We hadn't been in quite a while and this was a perfect evening to return. After that, we had a drink that the hip-yet-accessible Table 1280 right next door. Dinner reservations were at 11 at South City Kitchen down the street on Crescent. Too. Much. Food. So. Good.