14 January 2009
Where was I?
New Year's: taxi to Palate and wine whilst waiting for Shelby and Robert to arrive. Message earlier from Debbie and Kevin that they couldn't make it because of work (!). Quick ride over to Feast and dinner in a big tent with ~20 others + Bonaventure Quartet (minus singer). Spent the midnight hour on the dance floor with Lisa! Rode back to S & R's and fiiiiiiinally got a taxi ride back home. Photos.
The girls: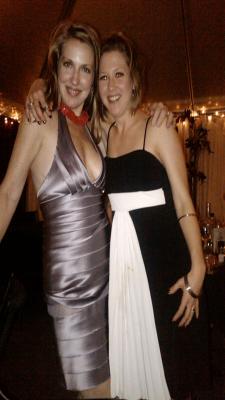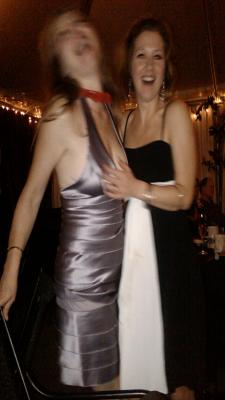 At some point (last week?) we went to see Let the Right One In [ 5/5 | IMDB | Rotten Tomatoes ]. Simply outstanding. We've been very lucky with films recently and this was no different. The love story (of sorts) was cute and unconventional. The story revealed itself and reformed any previous vague events into humorous and grotesque shocks. The snow and mood were perfect.

Symphony Friday the 9th: the great Brahms Violin Concerto with Gil Shaham [ IMSLP ] and Prokofiev's 5th Symphony. Shaham rocked, jumping all over the stage (at least, as much as you can in that space). Great to see that he had a long line of fans waiting to get his autograph during the intermission. The 5th I should know better, but even though I have his complete symphonies I haven't given them a dedicated listen. I'm just happy it wasn't the 1st. So. Sick. Of. That. Work. After, we tried to hit Trois' bar but it was closed for some stupid reason (Lisa was pissed) so we ended up at Marlow's. Eh.
Sat was volunteering at Kennesaw Mountain to clear trails. Ended early because of rain, but it was fun and will definitely be continued next month (1st Sat of every month).
We were s'posed to head over to Villa Rica for fondue with Debbie and Kevin, but their youngest got ill and plans were cancelled minutes before we were about to head out. Over the past couple of years, every attempt to go out with them has been usurped by chaos.
Other than goin' out fun, we: got a new TV for a BARGAIN (40-inch Sony Bravia), will be giving our old one to the nieces tomorrow to serve as a Wii TVii, got checked up and qualified for life insurance (kicking in the beginning of next month), and are working on a re-fi for the condo. Crazy, and expensive, month.