10 October 2011
Where was I?
Second trip to NYC for the year.
Our first was back in April with Nat and Frank so Nat and Lisa could run Fitness Magazine's women's 1/2 marathon. This trip was spawned because tickets back in April for Book of Mormon were too rich for our blood. As soon as we got back, we picked up Fall tickets and planned the weekend around that.
Arrived late but were rewarded with a new location of our favorite wine bar, Terroir, that opened just down the street from our hotel. One AM drinks and 2 AM wanderings home with a chick fight in front of the Mercury Bar on 3rd. Awesome.
Started Friday with a beautiful jog through Central Park then to pursue another happy coincidence: The 2011 New Yorker Festival was happening that weekend. Unprepared, we got in a lengthy line for tickets to for the Saturday afternoon Richard Dawkins talk. Cut to two hours later and we were successful. Late afternoon with Lisa's mom and Narda walking around WTC site after lunch at Cercle Rouge, we wandered through the OWS protesters on their way to City Hall: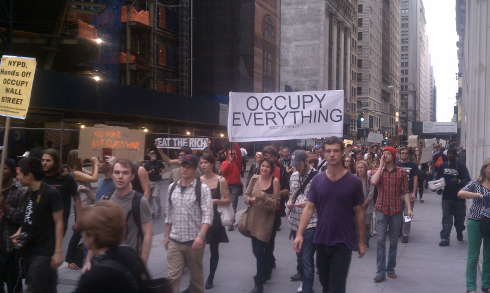 Dinner at Park Avenue Autumn. The restaurant revamps four times a year, replacing both the menu and the interior to match the season. I had the venison special which came with a booklet describing the aesthetic choices made when creating the dish (titled "Spoils" and inspired by the distribution of Saddam's wealth to the Iraqi people). Discussing it late that night with some locals at the hotel bar, the concept was declared "worse that some satire mocking what people think a New York restaurant is like." I was more sympathetic of food+high concept, but I understand where they're coming from.
Next morning was brunch at The Dutch in SoHo, which greeted us with an SY poster: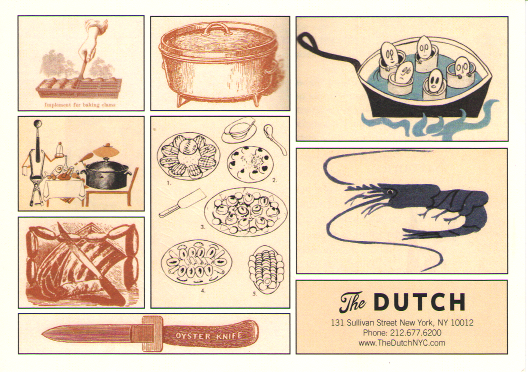 Call me crazy, but I think NYC likes Sonic Youth.
From there, I picked up some artwork that had me riveted. As soon as I spotted it I knew I had to buy it. Then more coincidences: the artist said that Hurricane Katrina inspired him to paint it:
The artist's name is--and I am not making this up--O O (that is, two capital letter Os). He showed me his passport to prove it, and yet I did not ask *why* he changed his name to O O (nor did I ask who he was before). He can be found at Etsy, CafePress, and ImageKind, but none of his other work is nearly as inspired as Everyman For Himself.
Wandered galleries to see: Damien Hirst's spot paintings along with some beautiful Warhol drawings (25 cats...) and a Lichtenstein. Another gallery with Chinese artist Liu Bolin's photographs of him fading into the background (Invisible Man set). They were nice, but by far the more stunning were his two pieces "Shadow II No. 3 - Traffic Lights, 2010" and "Shadow II No. 4 - Trees, 2010":
Dawkins was wonderful and wandered across many topics. Arguing for the logic of animal rights, derived from the continuum of human evolution, he gave no dogmatic proclamation but simply said "it's a difficult question." Book of Mormon is as transgressive as you would expect and, as is common with their approach, attempts to find the commonality in others' quirks.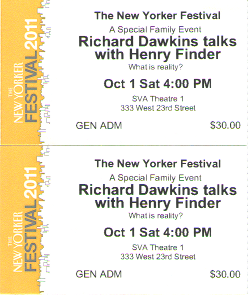 Sunday was brunch at Gemma in the Bowery, a plan B restaurant to avoid an hour-and-a-half wait for plan A. Comic books at Midtown Comics. A Polish parade on 5th Ave. Late arrival home.
One of our best NYC trips.